Summer School
Quantum Monte Carlo
and the CASINO program V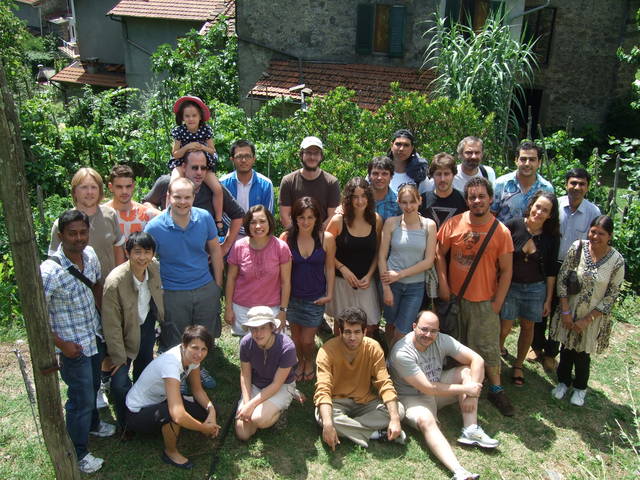 The fifth international summer school in the "Quantum Monte Carlo and the CASINO program" series took place from the 1st to the 8th of August 2010 and involved 21 students from 19 countries. The purpose of the school was to provide the students with a thorough working knowledge of the quantum Monte Carlo electronic structure method as currently used in quantum chemistry and condensed matter physics and to show them how to use the Cambridge CASINO QMC program for serious scientific research. The participants spent around four hours each morning listening to lectures on the quantum Monte Carlo method. This was followed by practical examples classes with the CASINO software, and a programme of healthy recreational activities such as mountain walking and cave exploration.
Notable achievements by the more athletic of the students include ascents of Monte Procinto, Monte Matanna and the rock arch at Monte Forato, a large number of students entering the deep chamber in the Cascaltendine cave, five students scaling the Incredibly Dangerous Waterfall (without a rope!) in the Cave That Screams, and the conquering of the Turrite di San Rocco canyon. However, despite a fighting effort our boys suffered a 6-4 beating in the 6th "Vallico Sotto against the World" football match, which took place during a violent thunderstorm on a pitch resembling a swimming pool. Sadly the students were completely outcooled by Vallico captain Marco, who stood in the middle of the pitch waiting to start, fag in mouth, waiting for his opponents who were mostly cowering in the nearby bar. During the evenings we enjoyed the musical talents of Pablo López Ríos, who this year perfected the art of improvising insulting songs on the guitar in the Club Style, and the rockout guitar riffs of Frantisek Karlicky and Rodrigo Vargas. Over the course of the week, due to the bad influence of a group of drunken Spanish (or possibly Basque) girls I totally lost control of my co-instructors, who finished the week swimming in the sea with famous actress Penelope Cruz and a bunch of mermaids (photographic evidence below). Weird.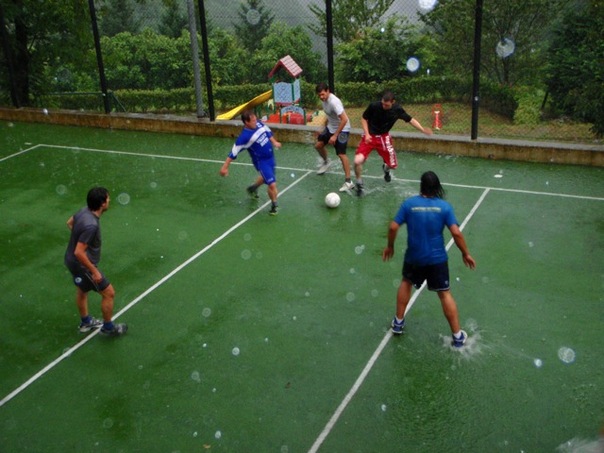 Following intensive examinations on the final day, the prestigious "TTI QMC Summer School Champion" award went to Rok Zitko of the Jozef Stefan Institute, Slovenia, for which he was awarded the prize of an interesting rok (see below - rok not shown).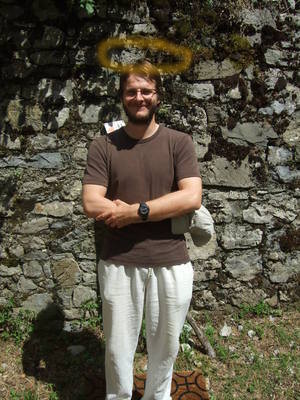 Instructors
Mike Towler, Neil Drummond, Pablo López Ríos, Robert Lee
Students
Robert Achleitner, Jagendra K. Baria, Anouar Benali, Sumanta Bhandary, Francesco Fracchia, Ivan Infante, Elisa Jimenez Izal, Frantisek Karlicky, Lucia Kicinova, Platon Komarov, Emmanuel Koukaras, Hung-Wen Lee, Laura Lopez de la Torre, Noelia Beatriz Luque, Ali Nassimi, Jana Radakovic, Katie Schwarz, Pablo Serra, Rodrigo Vargas, Shikai Xiang, Rok Zitko, Ramilaben Jagendrasinh Baria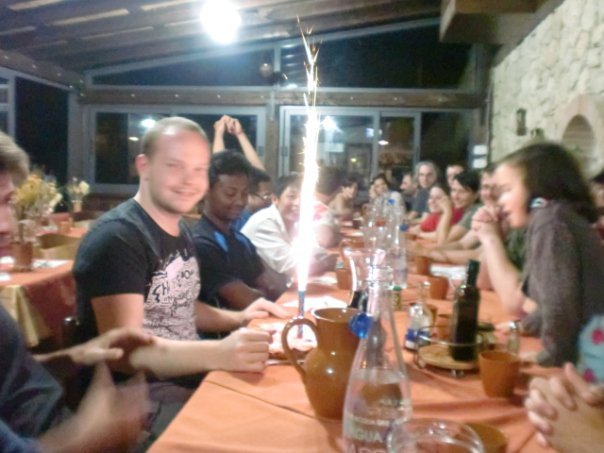 Lectures presented : slides (password required)
Mike Towler (mdt26 at cam.ac.uk)
- "Quantum Monte Carlo : a practical solution to the correlation problem in electronic structure calculations" [PDF]
- "The CASINO program : a basic introduction to functionality and input/output" [PDF]
- "Three QMC scaling problems" [PDF]
- "Forces and dynamics. Expectation values other than the energy" [PDF]
- "Practical aspects when using pseudopotentials with CASINO" [PPT]

Pablo López Ríos (pl275 at cam.ac.uk)
Neil Drummond (ndd21 at cam.ac.uk)
Robert Lee (rml38 at cam.ac.uk)
- "Applications of QMC to model systems" [PDF]

Practical worksheets and input files (password required)
QMC Exam (password required)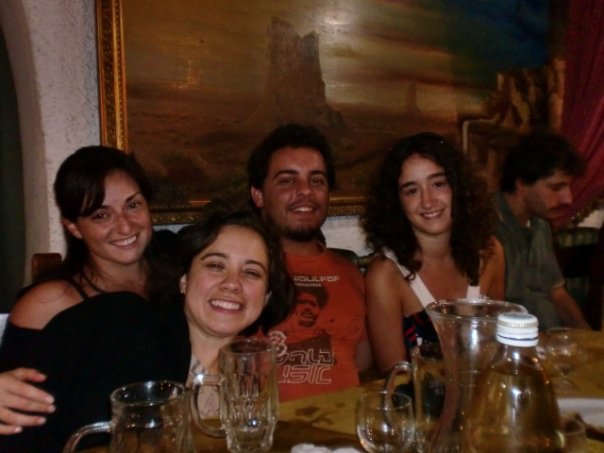 Comments
"Thank you for everything! Last week was amazing, wonderful, marvelous,....!"

"I've only just arrived home after doing some exploring following the Summer school. I just wanted to thank you for probably the best couple of weeks of my PhD. It was a real privilege to take part."

"Since I didn't see you anymore in the morning when I left I wanna thank you and Samantha with his email now for this awesome week! I hope both of you could get some rest from the last 2 weeks now, since they were for sure quite exhausting. The way this week was done, it went far beyond just academic stuff. Experiencing new things (like the cave climbing) and being in such a nice athmosphere made this week for sure a never forgetable impression of my life."

"Now that I've arrived home, and finally had 8 hours of sleep (which is still not enough), I would like to thank you and Sam, again, for hospitality and friendship you've given us last week. It was an unforgettable week! I could say that this was, probably, the most important week in the last few years for me.."

"The summer school was amazing and somehow happened in a special moment in my life that changed it. And I am not talking about the scientific part. It was for me a once in a lifetime experience. Please send my regards to Sam and also thank her for her advices about my love life :) Hope you are recovering of such a long time of work. Thanks for allowed me to take part of this incredible experience."

"Indeed, it was a wonderful experience there in Vallico Sotto! Even I wasn't fit for the exam, I learned a lot about QMC (of course I have to check it out deeper by my self!) I also love the excursions! Thanks a lot for everything! I really like your style!"