Quantum Monte Carlo in the Apuan Alps I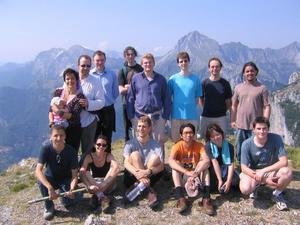 The first "Quantum Monte Carlo in the Apuan Alps" workshop took place from 24th-31st July 2005. The participants spent four hours each morning listening to talks on the quantum Monte Carlo method, followed by an afternoon of mountain walking or other activities. The days were concluded with evening discussions and dinner. The conference was reckoned a great success by all concerned.
List of participants
Richard Needs, Matthew Foulkes, Mike Towler, Saska Towler, Samantha Keil, Alexander Badinski, Andrea Ma, Idoia Garcia de Gurtubay, John Trail, Matthew Brown, Neil Drummond, Pablo Lopez Rios, Zoltan Radnai, Nick Hine, Ryo Maezono, Miyuki Maezono
Random quotes :
"It was easily the most enjoyable conference I have ever attended, and in the most beautiful location"
"Each of the days in Tuscany was amazingly wonderful, can I ever imagine Italian lovely place without any crowd of Japanese tourists?" [from a Japanese person]
"Thank you many times for the terrific time we (and in particular me) had at the TTI. I think that was my summer highlight for this year, and I suppose that it was the perfect atmosphere for our QMC family to grow closer together!!"
"Very educational, very relaxing, just great.. Thanks for this memorable week in Tuscany"
Talks presented
Alexander Badinski (ab582 at cam.ac.uk)
- Forces in QMC: a literature review, challenges and our new possible approach [PDF]
Neil Drummond (ndd21 at cam.ac.uk)
- Some mathematical puzzles in QMC [PDF]
- Optimisation of Jastrow factors by variance minimisation [PDF]
- Electron emission from diamondoids: a DMC study [PDF]
Matthew Foulkes (m.foulkes at ic.ac.uk)
- The surface energy of the electron gas - a battle with error bars [PDF]
Nick Hine (nicholas.hine at imperial.ac.uk)
- Localization tensor calculations on quantum dots in DFT and VMC [PPT]
Idoia Garcia de Gurtubay (ig243 at cam.ac.uk)
- QMC dissociation energies of three electron hemibonded radical cation dimers.. and water clusters. [PDF]
Pablo Lopez Rios (pl275 at cam.ac.uk)
- The electron-hole system and QMC [PDF]
- Backflow corrections in QMC : going beyond the Slater-Jastrow wave function in fermionic systems [PDF]
Andrea Ma (am570 at cam.ac.uk)
- Diamond equation of state [PDF]
Ryo Maezono (MAEZONO.Ryo at nims.go.jp)
- The fragment method in QMC [PPT]
Richard Needs (rn11 at cam.ac.uk)
Zoltan Radnai (zr205 at cam.ac.uk)
- Noncollinear spins in QMC: spiral spin density waves in the HEG [PDF]
Mike Towler (mdt26 at cam.ac.uk)
- Localized orbitals and localized basis sets [PDF]
- Metal-insulator transitions [PDF], [Sorella paper]
- Richard Burton and the source of the Nile [PDF]
John Trail (jrt32 at cam.ac.uk)
- Multideterminant atomic wave functions for quantum Monte Carlo [PDF]