Quantum Monte Carlo in the Apuan Alps IV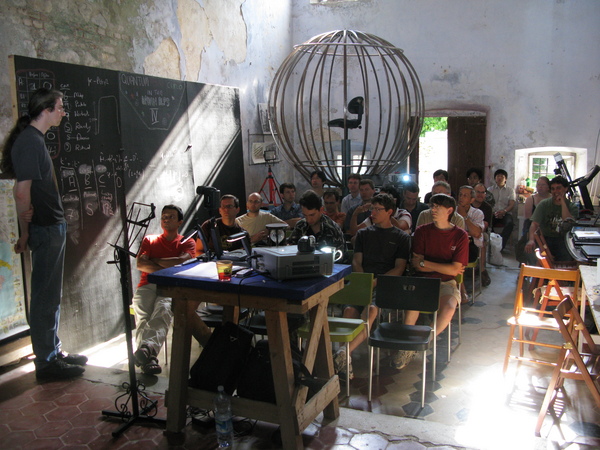 The fourth "Quantum Monte Carlo in the Apuan Alps" international workshop took place from the 26th of July to the 2nd of August 2008. The participants spent four hours each morning listening to quantum Monte Carlo talks, followed by afternoons of mountain walking, caving, canyoning and other activities. Notable athletic achievements by the group included ascents of Monte Forato, Pania della Croce and Monte Procinto, the first partial exploration of the Vasaio di Motrone cave, and the doling out of a heavy defeat to the thrusting young village lads in the first "Vallico Sotto Against The World" football match. The Foulkes family explored the entrance to the Rio Selvano canyon but were driven back - there's a challenge for the future. The days were concluded with evening discussions, dinner, and singing.
List of participants
Dario Alfè, Bohshiang Jong, Jordi Boronat, Dario Bressanini, Neil Drummond, Jonathan DuBois, Matthew Foulkes, Rex Godby, Richard Hennig, Randy Hood, John Jumper, Yukiumu Kita, Martin Korth, Robert Lee, Pablo López Ríos, Arne Lüchow, Ryo Maezono, Andrew Morris, Norbert Nemec, Manolo Per, Fernando Reboredo, Masanori Tachikawa, Mike Towler, Emma Drummond, Stacy Hennig, Matty Hennig, Julie Hood, Sandra Korth, Letty Foulkes, Dianne Allen, Carolyn Jumper, Samantha Keil, Saska Towler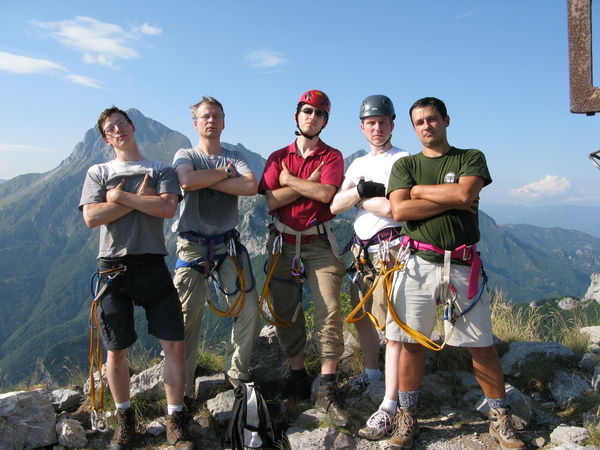 Talks presented (password required)
Dario Alfè (d.alfe at ucl.ac.uk)
- "Melting temperature of Fe at Earth's core conditions from quantum Monte Carlo free energy calculations" [PPT]
Jordi Boronat (jordi.boronat at upc.edu)
- "Higher-order actions for path integral Monte Carlo simulations" [PDF]
Neil Drummond (ndd21 at cam.ac.uk)
- "Quantum Monte Carlo study of the two-dimensional homogeneous electron gas" [PDF]
Jonathan DuBois (dubois9 at llnl.gov)
- "Experiments in direct nodal optimization" [PDF]
Matthew Foulkes (wmc.foulkes at imperial.ac.uk)
- "DFT and QMC studies of the thermodynamics of point defects in alumina" [PDF]
Rex Godby (rwg3 at york.ac.uk)
- "Quantum transport beyond the independent-electron approximation" [PPT]
Richard Hennig (rhennig at cornell.edu)
- "The QMC petascale project" [PDF]
Randy Hood (hood9 at llnl.gov)
- "Quantum Monte Carlo studies of metals and materials with properties determined by weak dispersive interactions" [PPT]
John Jumper (jj314 at cam.ac.uk)
- "Adaptive error control for diffusion Monte Carlo" [PDF]
Yukiumi Kita (happysea at mac.com)
- "Multi-component quantum Monte Carlo method" [PPT]
Martin Korth (mkorth at muenster.de)
- "Quantum Monte Carlo calculations of biomacromolecule model systems" [PDF]
Robert Lee (rml38 at cam.ac.uk)
- "QMC with biexcitons" [PDF]
Pablo López Ríos (pl275 at cam.ac.uk)
Arne Lüchow (luechow at rwth-aachen.de)
- "Quantum Monte Carlo calculations on Rydberg states and transition metal oxides" [PDF]
Ryo Maezono (rmaezono at mac.com)
- "Some new random number generators tested on CASINO" [PPT]
Andrew Morris (ajm255 at cam.ac.uk)
- "Defects in semiconductors using random structure searching" [PDF]
Norbert Nemec (nn245 at cam.ac.uk)
- "Van der Waals forces in graphitic nanostructures" [PDF]
Manolo Per (manolo.per at rmit.edu.au)
- "Anisotropic electron-pair densities in QMC" [PDF]
Fernando Reboredo (reboredofa at ornl.gov)
Masanori Tachikawa (tachi at yokohama-cu.ac.jp)
- "Multi component molecular orbital method for positronic compounds" [PPT]
Mike Towler (mdt26 at cam.ac.uk)
- "Another look at pilot wave theory - De Broglie and Bohm's solution to the QM interpretation problem, together with reflections on possible connections with quantum Monte Carlo." [PDF]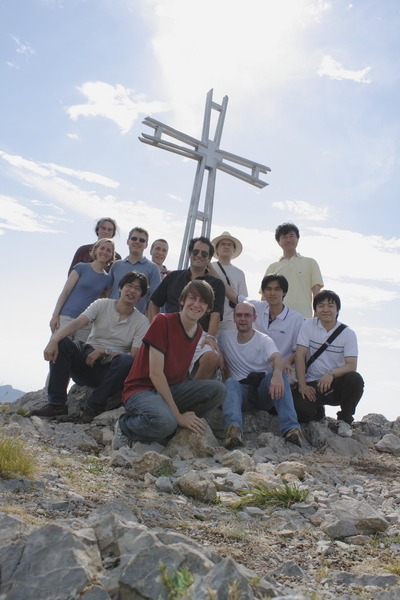 Comments
"First, an enormous thank-you to you and Sam for your extraordinary hospitality and kindness that made QMC in the Apuan Alps a quite unforgettable experience for me, and quite unlike any other conference. The excellent science and the wonderful social programme provide a model for other conferences."

"First of all let me thank you again for the fantastic week."

"The TTI conference was very excited and very impressive for me and Yukiumi. We were also very glad to see you and all the members in the conference. Please say our regards to Saska-chan and your wife!"

"And, again, let me express that I enjoyed the conference very much, both the academic and the fun part. Thanks for the excellent organization."

" Thanks for a great conference."

"I enjoyed very much the workshop and it was very nice meeting you. Thank you very much for the invitation."

"Thank you so much for your hospitality in QMC in the Apuan Alps!! During this stay, I really enjoyed the fruitful discussions, tasty dishes, wonderful views, and exciting excursions! This stay in TTI became a memorable event for me."

"Thank you again for giving me the opportunity to present my work in the TTI. It is surely the greatest conference on earth."