Quantum Monte Carlo in the Apuan Alps V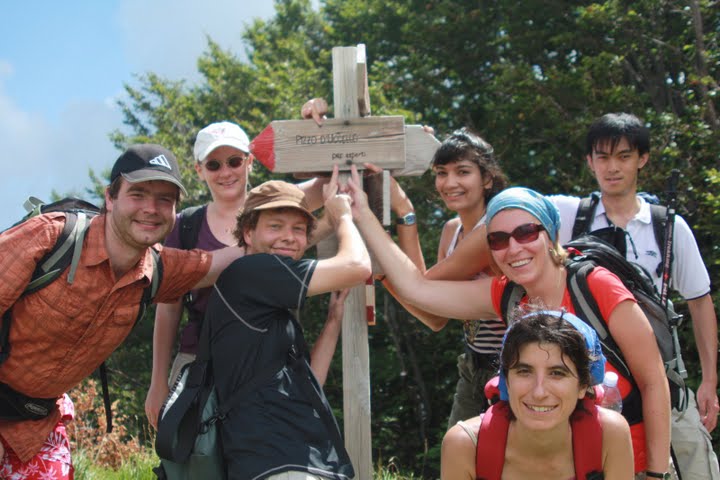 The fifth "Quantum Monte Carlo in the Apuan Alps" international workshop took place from the 25th of July to the 1st of August 2009. The participants spent four hours each morning listening to quantum Monte Carlo talks, followed by afternoons of mountain walking, caving, canyoning and other activities. Notable athletic achievements by the group included our first ascent of Pizzo d'Uccello (the 'Matterhorn of the Apuan Alps'), our first ascent of the Turrite di San Rocco canyon, our first full exploration of the Cave That Screams (having climbed the giant waterfall at the start), and only losing 13-9 to the thrusting young village lads in the third "Vallico Sotto Against The World" football match. A small group of more relaxed individuals also floated up to the grassy heights of Monte Prato Fiorito, and two intrepid little girls explored the Pinocchio park in Collodi. The days were concluded with evening discussions and dinner.
List of participants
Dario Alfè, George Booth, Michel Caffarel, Michele Casula, Raffaella Demichelis, Roberto Dovesi, Neil Drummond, Ken Esler, Matthew Foulkes, Gareth Griffiths, Bohshiang Jong, Martin Korth, Martin Krupicka, Valentina Lacivita, Robert Lee, Pablo Lopez Rios, Ryo Maezono, Mariapia Marchi, Alston Misquitta, Andrew Morris, Richard Needs, Norbert Nemec, Priyanka Seth, John Trail, Mike Towler, Lucas Wagner, Ching-Ming Wei, Shiwei Zhang, Tonia Sebastian, Sandra Korth, Lydia Nemec, Paul Nemec, Mike Wykes, Shan Li, Samantha Zhang, Anna Zhang, Michaela Pojarova, Sachiyo Inoue, Samantha Keil, Saska Towler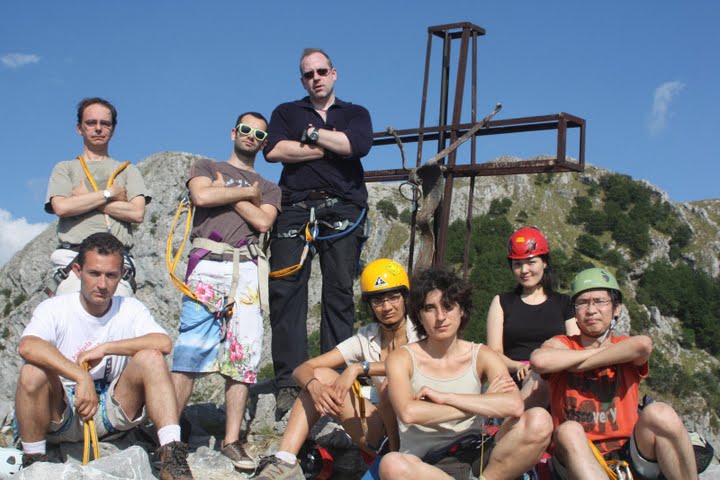 Talks presented (password required)
Dario Alfè (d.alfe at ucl.ac.uk)
"Water graphene binding energy curve from diffusion Monte Carlo" [PPT]
George Booth (ghb24 at cam.ac.uk)
Michel Caffarel (michel.caffarel at gmail.com)
"A new type of trial wave function for electronic structure calculations with QMC" [PDF]
Michele Casula (casula at cpht.polytechnique.fr)
"Hexatic and mesoscopic phases in the 2D quantum Coulomb system" [PDF]
Roberto Dovesi (roberto.dovesi at unito.it)
Neil Drummond (ndd21 at cam.ac.uk)
"Quasiparticle effective mass of the 2D homogeneous electron gas" [PDF]
Ken Esler (esler at uiuc.edu)
"Recent developments in QMC for periodic systems" [PDF]
Matthew Foulkes (wmc.foulkes at imperial.ac.uk)
"Point defects and diffusion in alumina" [PDF]
Gareth Griffiths (gigg2 at cam.ac.uk)
"Post-cotunnite phase of TeO2 from random structure searching" [PDF]
Martin Korth (mkorth at muenster.de)
"'Mindless' QMC benchmarking" [PDF]
Martin Krupicka (chemmakr at savba.sk)
"Comparison of QMC and ab initio methods for eight constitutional isomers of C4H6" [PDF]
Robert Lee (rml38 at cam.ac.uk)
"QMC and the 1d electron liquid" [PDF]
Pablo López Ríos (pl275 at cam.ac.uk)
"The Jastrow factor" [PDF]

Ryo Maezono (rmaezono at mac.com)
"DMC study of an atom immersed in a jellium sphere" [PDF]
Mariapia Marchi (marchi at sissa.it)
"Resonating Valence Bond wave function with molecular orbitals: application to diatomic molecules" [PDF]
Alston Misquitta (am592 at cam.ac.uk)
"The dispersion energy: an introduction and some surprises" [PDF]
Andrew Morris (ajm255 at cam.ac.uk)
"BEC-BCS crossover in ultracold atomic gasses within Quantum Monte Carlo" [PDF]
Richard Needs (rn11 at cam.ac.uk)
"Applications of ab initio random structure searching" [PDF]
Norbert Nemec (nn245 at cam.ac.uk)
"Diffusion Monte Carlo: exponentially inefficient for large systems" [PDF]
Priyanka Seth (ps479 at cam.ac.uk)
"QMC studies of the first row atoms" [PDF]

Mike Towler (mdt26 at cam.ac.uk)
"Pilot waves, Feynman path integrals, and quantum Monte Carlo" [PDF]
John Trail (jrtrail at jaist.ac.jp)
"Optimum and efficient sampling for variational quantum Monte Carlo" [PDF]
Lucas Wagner (lkwagner at berkeley.edu)
"Using QMC to optimize geometries" [PDF]
Ching-Ming Wei (cmw at phys.sinica.edu.tw)
"QMC studies of (i) transition metal clusters, and (ii) surface adsorption" [PPS]
Shiwei Zhang (shiwei at wm.edu)
"Is the homogeneous electron gas homogeneous?" [PDF]
Posters presented (password required)
Raffaella Demichelis (raffaella.demichelis at unito.it)
"Ab initio quantum mechanical simulation of systems with helical symmetry: carbon and chrysotile nanotubes" [PDF]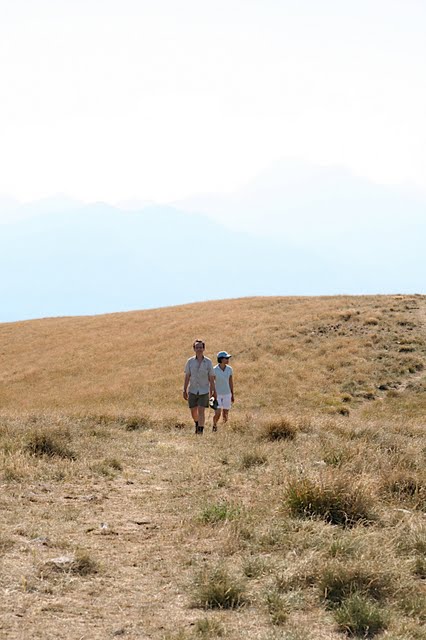 Comments
"Attending the conference was an unforgettable experience! The location of the Institute is unique, and also the way the meeting is organized is great. Thanks a lot for your effort to make the "QMC in the Apuan Alps" possible."

"Thanks very much for organising everything so slickly and helping everyone have such a good time. As usual, the conference was both interesting and fun."

"My family and I enjoyed the conference and visit very much. Thank you so much again!"

"Molte grazie per la gentile e calda accoglienza."

"Nice place and nice conference.. and nice fellowship too."

"I would like to thank you again for the nice organization of the conference and the afternoon activities. I really enjoyed both a lot."

"Thanks for the beautiful scientific and hiking event, it was perfect, as always."