TTI Restaurant Guide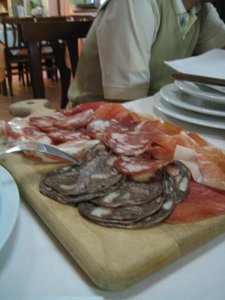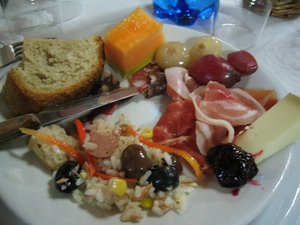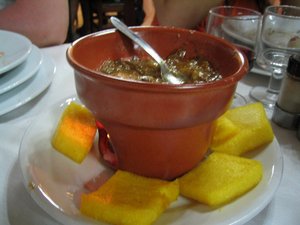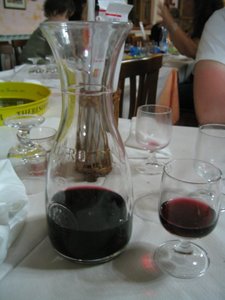 The Turrite Cava valley has a decent number of good-value restaurants serving delicious food. A typical three-course meal with wine should cost around 12-20 Euros per head.
If you are a vegetarian, you need to be aware that the locals will secretly consider you completely mad and will feel very sorry that you are unable to enjoy their passion for delicious animal products of all kinds. Don't worry about this. Following several years of TTI activities, they are now used to us bringing curious foreigners to their restaurants and most are now able to supply vegetarian meals of some kind.
Note that most restaurants do not have menus, but the waitress will recite a short list of possibilities for each course (which depends on whatever they have in the refrigerator that day). A reasonable grasp of 'restaurant Italian' is therefore recommended.
In Italy, there are four courses :
antipasti - lots of little things to start with - ham, salamis, cheeses, onions, little vegetable tarts, dippy stuff, polenta, bread
primi - pasta dish or risotto
secondi - main course. Meat or fish. They usually don't come with anything. You need to order contorni (side dishes) separately.
dolci - dessert.
followed by café and limoncello, grappa or similar.
Most foreign people choose to have either antipasti or primi rather than both. Pizza (almost always from a wood-fired oven, and delicious) can replace the main course.
You should usually drink house red wine (which is good local earthy robust stuff) or beer (birrà media = decent-sized glass of beer.)
Reservations are recommended, though only really necessary on Saturday nights or festivals. The business cards with telephone numbers of large numbers of local restaurants are stuck to the wall above the washing machine in the Institute.
Note that all restaurants have to close one day a week by law.
For a short stay we recommend the following local restaurants:


Da Ramona (347 4180394 Fabbriche di Vallico)
Wonderful, welcoming bar and restaurant with great food and great prices - the first one you see heading upriver on entering Fabbriche di Vallico. The lovely Ramona has particular specialities which we enjoy, like pasta with pistacchio nuts (her husband's favourite) and the best fried fish in the valley (Ramona used to work at the seaside for many years, hence the fish genius).. If Mike is staying in Vallico alone, he is often to be found here in the evenings.
Da Sandra (0583 761712 or 3403730040 on the road between Fabbriche di Vallico and Vallico Sotto).
A local institution founded by the late and sadly missed Sandra and now run by her extended family. Great food and speedy service. Closed Thursdays (and Mondays in winter).
Il Canapale (0583 761766 (or possibly 761829), Vallico Sopra)
Run as a cooperative by the inhabitants of Vallico Sopra. Very local and welcoming. For most of the year this is in a building in the centre of the village, but in July and August they move the whole operation to an open-air tent a few hundred yards past Vallico Sopra on the road going up to San Luigi [note for 2014: they seem to have stopped doing this now?]. Open Friday evening, Saturday and Sunday lunchtime and evening for most of the year..
Al Laghetto (0583 75798, near the lake at the entrance to the Turritecava valley)
Long-established place run by the Bertoli-Barsotti family. Great roast meats and pizza. Fantastic dining room and setting. Closed Tuesdays.
Alta Matanna (0584 776005, Matanna)
Once a hunting lodge and posh hotel in the nineteenth century - in a beautiful setting at then end of the Turritecava valley. Difficult to find but worth it after a hard day's hill walking.
Il Molino Vecchio (3401557521 or 3471447248, Fabbriche di Vallico)
Lovely local cuisine from Federico, Federica and Franca in the restored old chestnut mill four hundred yards upriver from Fabbriche di Vallico.
Ristorante Rita e Rinaldo (0583 357728 or 333-6126029, Focchia)
Rustic place in the village of Focchia on the top of a nearby mountain. Drive past Fabbriche di Vallico to Gragliana and turn left over the bridge. Go up the hill till you get to the church on the ridge in Focchia (don't say the name of the village in an Irish accent). Park the car, and follow the old wooden Ristorante sign to the centre of the village. Friendly very local place run by Rita and Ronaldo for forty years or thereabouts. Simple tasty food. Can cater for 150 on request.
Additionally there is Ristorante della Gé in Palagnana - bet you can';t find it without help. Also La Sosta in Pascoso which is almost but not quite in the Turritecava valley - excellent food but slightly more expensive as it is just about accessible to Lucca day trippers.
The following restaurants are slightly further afield (i.e. out of the Turritecava valley). If not listed below phone numbers and addresses might be found on the business cards near the Institute washing machine.
Il Totto, Sassi (0583 760061)
Il Rondone, Vergemoli, near the Grotta del Vento (0583 722018)
Il Tinello, Fornovolasco, near the Grotta del Vento (0583 722027)
Circolo dei Forestieri, Bagni di Lucca
Quadrifoglio, on the main Gallicano to Lucca road near the Calavorno bridge. Excellent - but quite pricey - food!
Antica Trattoria dell'Eremita, on the road from Gallicano towards Fornovolasco. Climb upwards as soon as you see the giant cliff and the white hermitage perched underneath it.
Il Garfagnino, on the main road near Turritecava
Eliseo, in Gallicano (0583 74031)
Da Riccardo in Barga
Loads of others