Summer School
Quantum Monte Carlo
and the CASINO program VII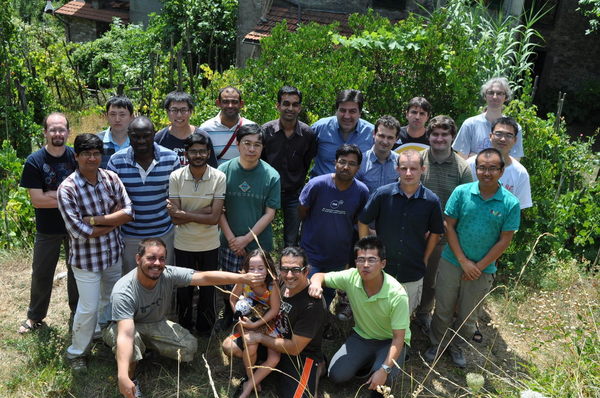 The seventh international summer school in the "Quantum Monte Carlo and the CASINO program" series took place from Sunday 5th August to Sunday 12th August 2012 and involved 19 students from 12 countries. It was in fact supposed to involve 28 students from 17 countries but a new campaign by the Italian government to refuse visas to foreign people for entirely spurious reasons has stepped up a gear this year and this, together with problems with money, anxiety, death, incompetence, and mysterious disappearances, meant that we had far too many empty rooms during the summer school and lots of disappointed local restaurant owners. It was interesting to note that the number of European and American students continued its steep downward trend (is this because of the financial crisis, or have they managed to delude themselves that DFT is good enough?), and that interest in QMC is apparently drifting eastwards, with large numbers of our Indian, Chinese and Japanese friends attending the course. Sadly, and for the first time in any of the twenty or so major events to be held over the years at TTI, there was also a complete absence of women.
The purpose of the school was to provide the students with a thorough working knowledge of the quantum Monte Carlo electronic structure method as currently used in quantum chemistry and condensed matter physics and to show them how to use the Cambridge CASINO QMC program for serious scientific research. The participants spent around four hours each morning listening to lectures on the quantum Monte Carlo method. This was followed by practical examples classes with the CASINO software, and a programme of healthy recreational activities such as mountain walking and cave exploration.
Healthy activities indeed. However, despite some brave individuals conquering Monte Procinto, Monte Forato and the Turrite di San Rocco canyon, and some other people doing a bit of climbing and crawling into holes in the Cascaltendine cave, I have to say that at this school there was a marked general tendency to avoid physical exertion which was in stark contrast to the usual pre-dawn stomp up every nearby mountain peak. This came to an amusing conclusion on the last day's big excursion when, having been deposited at one end of the Cinque Terre and given four and a half hours to walk one of the most beautiful cliff-top walks in the world -- or alternatively to get a boat ride between the five seaside villages -- every single one of the students decided that it was all a bit much. Perhaps it might be better to sit on the sea-front and wait, they thought, or to visit the local tourist-tat shops and chain ice creams. But that's OK, because they all seemed to enjoy themselves. I am happy to report, though, that my irrepressible seven-year old Saska finally overcame her handicap of having extremely short legs (relative to the rest of us) and bounced happily up to the top of Monte Matanna, as well as making her debut as summer school photographer - see below..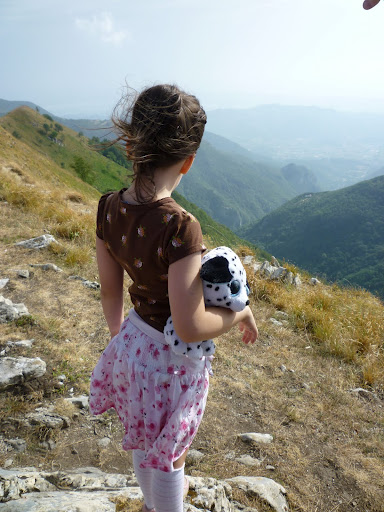 The "Vallico Sotto Against the World" football match proved to be interesting. The thrusting local lads -- who last week handsomely beat the traditionally stronger QMC conference team even in the presence of our talisman and secret weapon Dario Alfè -- paid a sneak visit to the TTI building during the morning lectures to check out the opposition. Having apparently been thoroughly unimpressed by the physiques of Our Boys, they decided to make fun of us, by fielding a team of 13-14 year olds together with one grown-up to supervise. This came as a bit of a shock to me, as last time I looked these kids were all little blond moppets making houses for their teddies in the playground. Still, we all have to grow up sometime I suppose. Perhaps it was a bit too soon for this lot though, as our Abdul from South Africa/Nigeria proceeded to kick the brats very hard as soon as they looked like touching the ball. Pretty soon, young Mario was almost in tears. "Oh boo hoo", thinks I, "that's the very rude one who's always sticking his tongue out at my wife." So, being thoroughly aware of the utility of the 'sledging' tactics employed by Australian cricketers, I try to arrange a section of the crowd to make blubbing noises whenever the ball came near little Mario. Aww, he doesn't like it - well, I guess he'll get his revenge when he's 25.. ;-)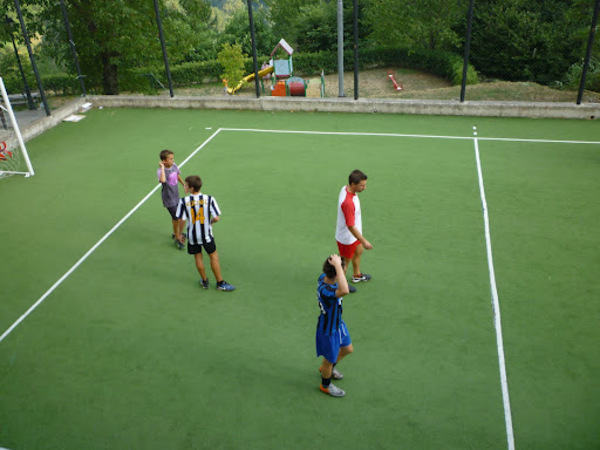 Anyway, at half time the Summer School team are well in the lead, and as the Vallico grown-ups become aware of this, the tearaway young tots are gradually replaced by their daddies, culminating - early in the second half - with the arrival of Marco and his brother Michele, sporting a terrifying new skinhead haircut. Despite heroic resistance by Sam Azadi and Pawel Potasz, and some terrific poacher's goals up front from Abdul (who gradually develops a vocal following from local young spectators), Vallico begin to creep back into the match. At the end of the second half the scores are level at 12-12. Nursing some sick fantasy about heroically scoring the winning goal, I declare 'Next Goal Wins' and move down from the commentary position for a rare appearance on the pitch. In sunglasses. Needless to say, no sooner have I appeared on the green plastic and fallen over a couple of times, then Vallico slam one in the back of the net. Or put it another way, having never been behind in the whole match, The World lose as soon as I join the team. Hmmm... bad luck! And that was that.
To check which students have been paying most attention during the lectures and practical classes, we traditionally hold a tough examination on the final day. Participants will be disheartened to learn that the average mark was nearly 30 per cent lower than normal (no girls, you see!) but the highest of these low marks, and the award of the prestigious title of "TTI QMC Summer School Champion", went to Irishman Anthony Reilly of the Fritz-Haber-Institut, Berlin, for which he was awarded the prize of a valuable ancient book printed in the 1600s from the TTI Antiquarian Library. His triumph was celebrated with fireworks and a quality speech which would have moved Cicero to tears. Of despair.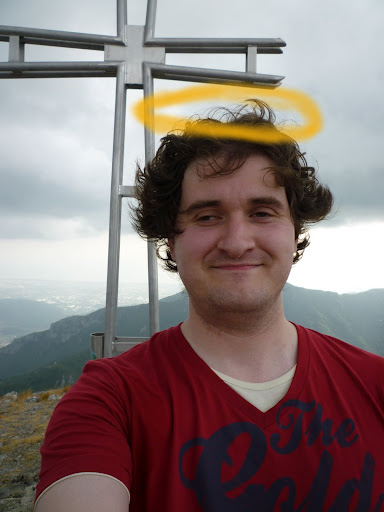 An additional prize for 'Traveller of the Year' was awarded to Ashish Radadiya, who not only failed to arrive in Vallico until the final day of the summer school, but also during the few excursions he went on managed to get lost both in Lucca and in a motorway service station, and he finally lost all his belongings including passport, laptop, camera, phone and money during a post-school trip to Rome. I am aware that, strictly speaking, this isn't funny. Anyway, the prize is an all-expenses-paid solo canoeing trip up the Amazon River in Brazil. During which he won't be eaten by wild animals or anything like that. Oh no.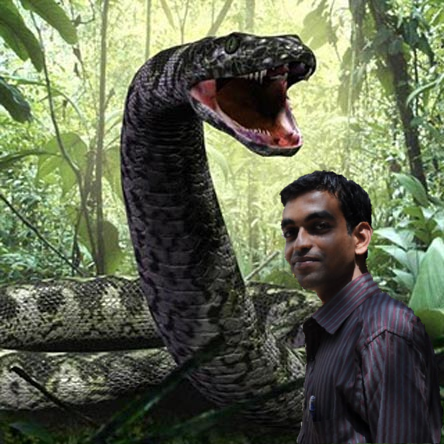 Like an arrow through the trackless wastes..
On the final day, Fulvio Ciriaco contracted some hideous kind of Swine Flu, which he then managed to give to large numbers of other participants, including me (and presumably to many other people around the world, as all our lads were just about to get on aeroplanes). Five days later, as I write these words, I have only just begun to recover, and every bit of my body aches.
But though it was very different from events in previous years, QMCATCP-12 was a fun school, and I know that all the participants enjoyed themselves in one way or another, and that they learned a good deal about quantum Monte Carlo. Which is all that you can really ask. Isn't it?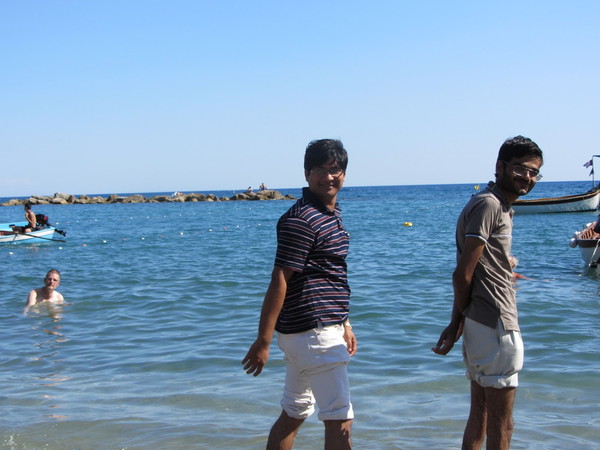 Instructors
Mike Towler, Neil Drummond, Pablo López Ríos assisted by Sam Azadi
Students
Vikas Chauhan, Giorgio Cinacchi, Fulvio Ciriaco, Simone Conti, Parag Deshpande, Li Ding, Tomoyuki Hamada, Cui Hang, Yingjin Ma, Denis Magero, Pawel Potasz, Ashish Radadiya, Abdulrafiu Tunde Raji, Anthony Reilly, Sahinur Reja, Marc Segovia, William Vigor, Hui Wang, Chenyang Zhang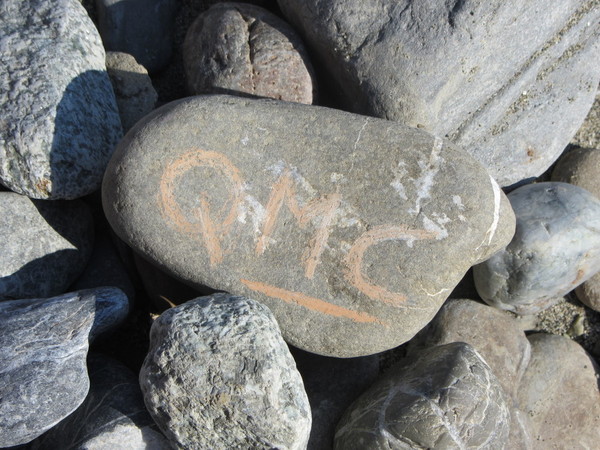 Lectures presented : slides (password required)
Mike Towler (mdt26 at cam.ac.uk)
- "Quantum Monte Carlo : a practical solution to the correlation problem in electronic structure calculations" [PDF]
- "The CASINO program : a basic introduction to functionality and input/output" [PDF]
- "Three QMC scaling problems: many atoms, many protons, many processors" [PDF]
- "Forces and dynamics. Expectation values other than the energy" [PDF]
- "Practical aspects when using pseudopotentials with CASINO" [PPT]

Pablo López Ríos (pl275 at cam.ac.uk)
Neil Drummond (ndd21 at cam.ac.uk)
Martin Krupicka (chemmakr at savba.sk)
- "Applications: systems with atoms" [PDF] (FROM LAST YEAR)

Practical worksheets and input files
QMC Exam
Student talks
- Marc Segovia, "Quantum Monte Carlo study of the strength of OH bond in CF3OH" [ODP]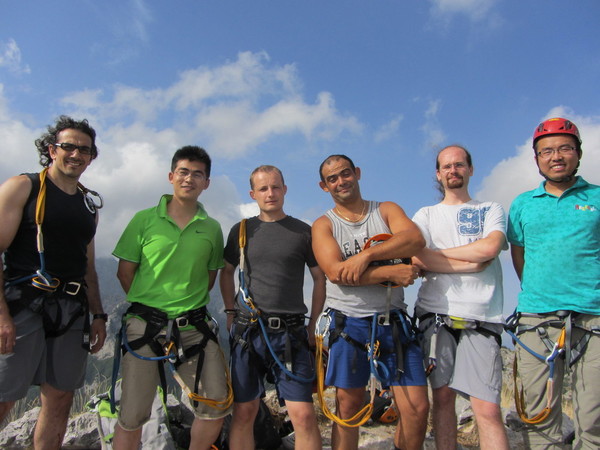 Comments
"Many thanks. I shall never forget these days in TTI. Not only for the beautiful mountains and rivers, but also for your warm reception. Best wishes to Samantha, Saska and your QMC group."

"Thank your very much for your excellent QMC summer school. I think the experience in this summer will be remembed by my heart.The fantastic lectures, the fabulous activities,the exciting football games and your nice help gave me a deep impression."

"I wished to convey my sincere gratitude for organizing such a great event. For the time I was there, I was wondering about the source of inspiration and enthusiasm that comes to you for voluntarily organizing the event. The summer school not only benefited me for learning QMC but also for inducting in me the zeal to be involved in organizing such events back home. I got the opportunity to learn not only QMC but also about Italy, about Nigeria, about Uruguay ... I thank you for everything and look forward to meet you with QMC implemented to my systems."

"I have just safely arrivted at my home in Japan after 16 hours trip from Vallico-Sotto. First of all, I would like to many thanks to your kind acomodatiions, interesting lectures, and several programs of leisure activity. The QMC summer school was certainly great experiernce in many respects and would be unforgettable memories for me. I am feeling that the summer school would be a truning point of my scientific research. The 16 hours trip to your institute was certainly valuable. I am going to request a copy of the CASINO program and to use it for my study on strongly correlated electron systems."

"Many thanks also for the wonderfull organization of the summer school."

"I specially want to thank you, Neil, Pablo, Sam, as well as Samantha and Saska, for the very friendly reception that you give me in your home. Even with this flu as consequence it was a great week."

"I would write an amazing endorsement but then you said my rhetoric was crap so I wont bother!"

"I have to say I have enjoyed the attending QMC school and of course Vallico Sotto. It was wonderful experience for me to know all fine details about QMC and learning QMC. Please say "hello" to little princess."