Event facilities
Following on from the philosophy of the Institute, this document outlines the technical facilities and the accommodation available.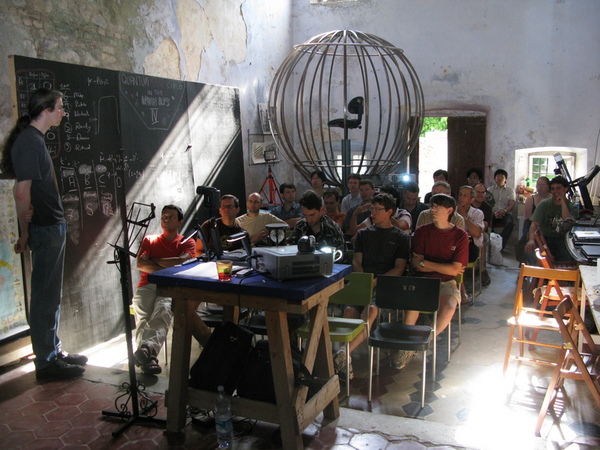 The Institute offers good quality presentation and computer facilities:
Presentation facilities
A 16' x 12' main screen, and a 7'8 x 5'9 auxiliary screen.
An NEC MT1075 projector. This is an extremely bright wireless installation with extensive connectivity options and many advanced features. [Technical specs : 4200 ANSI Lumens ; Contrast ratio 200:1 ; autofocus and digital zoom, automatic cornerstone adjustment ; Native resolution : 1024x768, Maximum resolution 1600x1200 ; Aspect ratio 4:3 ; 5W stereo speakers ; Inputs : 1 DVI-D, 1 5xBNC, 1 RGB, 1 S-Video, 1 Video, 2 PC Card, 2 L/R RCA Audio, 3 Stereo Mini Audio, 1 USB A, 1 Remote ; Outputs : 1 RGB, 1 Stereo Mini Audio, 1 L/R RCA Audio, 1 USB B, 1 9-Pin PC Control, 1 Mouse. ].
In the unlikely event of the NEC not functioning correctly with your laptop, or if you wish to project two images at once (e.g. one from a laptop, one from the document camera), there is also an auxiliary Toshiba DPD TDP-T250U projector.
Instead of a boring old overhead projector there is an Avervision 330 multi-purpose document camera that will display any printed document, photo, slides, x-ray film or 3D object through the NEC projector. Useful features include optical 5x and digital 8x zoom in, panning, mirroring, rotation, negative to positive conversion, and a timer, and access to all of these features with the infrared remote control. So basically you can dissect a frog, or a scorpion, live on the wall, should you be into that sort of thing..
DVI, RGB, component video, and S-video cabling.
A 19th Century microscope, with an attachment to the Avervision for projecting the microworld.
A proper blackboard with real chalk.
DVD player with quality speakers.
A microphone and amplifier.
An electric piano.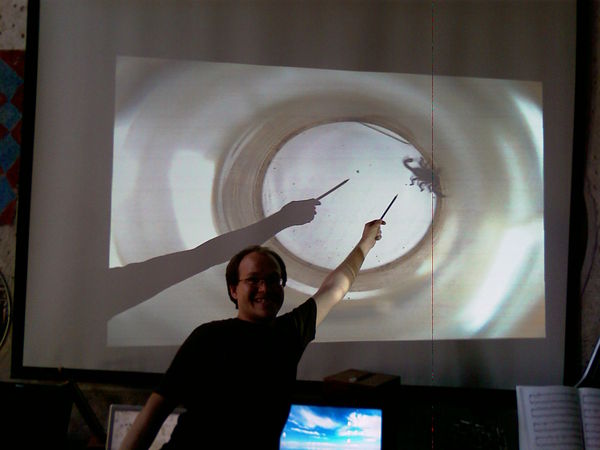 Computer and network facilities
There is a private wireless network (802.11b) with a big aerial in the building so users bringing their own laptops should be able to connect to the internet and other local computers and printers from anywhere in or near the monastery. The network connects with the outside world through the local wireless broadband service.
We have a number of laptop computers available for public use (these can be used together to form a distributed supercomputer).
Printing, scanning and photo/HD-video facilities are available.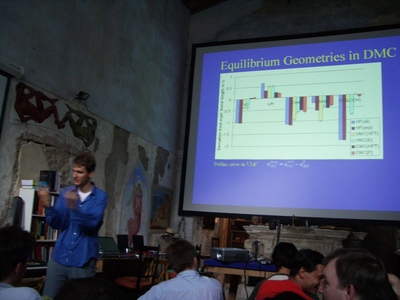 Accommodation
Events for up to something like 65 people can be catered for onsite. The Institute itself can accommodate 16 people in proper beds (more if you're prepared to rough it and use the church as a dormitory). An additional 11 people can be accommodated in the Doctor's house 30 metres away (this incurs a small cost, since we have to pay him) and there are other houses in the village that can be rented if necessary. Note that much of this accommodation is shared twin-bed rooms, though there are single rooms for important professor-types who value their privacy and some rooms have double beds. There are two bathrooms in the main house (and one in the Doctor's) and a Victorian-style external lavatory. Cots and small children-sized beds can be arranged on request. As of summer 2007, the new luxurious Bedouin tent can now be found on the site of the old fortress on the terraces above Vallico.. For really big events we also use commercially available rooms in nearby restaurant "Da Sandra" and in the holiday apartments at Casale dei Ruscelli.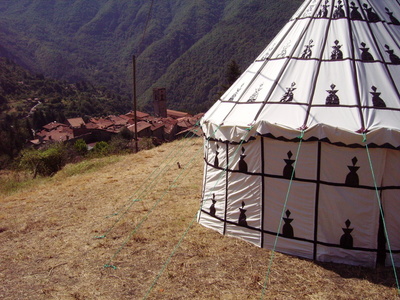 Random quotes :
"Well, words fail me really! That was a stupendous conference; a real feat by Mike if I may say so: to keep so many people feeling welcome, and intellectually stimulated; and so much more than that. Truly an amazing week, and we all owe you a big debt of gratitude."

"It was a great privilege to be invited to the Towler Institute and to enjoy that blissful week in the beautiful surroundings with such good company, intellectual stimulation and, not least, exercise! I think you and Samantha have made a wonderful home of that delightful monastery - to hear (and see) lectures in the twelfth-century church was most exciting. I am lost in admiration for your organizational capacity and energy - the diversity of all the things you have to think about is enormous. You are playing a great part in promoting pilot wave theory among the physics community. May it flourish!"

"Thank you for a wonderful visit and conference. I have learned more than I can express, and made many new friends, among whom I am glad to include the Towlers. I hope to see you in [my town] soon. In the meantime, I hope you'll enjoy this adventure, the story of discovery which reminds me of what we have spent the week sharing. See you in the New World." [inscribed inside the cover of "Undaunted Courage" by Stephen Ambrose]

"Thanks so much for a wonderful week, with a well-organized workshop, interesting talks, lovely venue, great excursions, gorgeous food, and welcome environment. I can't believe how you're doing this all by yourselves! Take care and best wishes."

"Many, many thanks for organising such an excellent conference. Thank you for being such good hosts. Mike, I felt exhausted just watching you dealing with all the schedule and the many problems that must arise when such a group gather. Congratulations!"

"Really enjoyed the meeting in Vallico Sotto. I also enjoyed tremendously seeing your house/monastery. It is amazing what you have done with it. We were blown away with Sam's sculptures. Seeing them "in the flesh" was much better than seeing photos of them. She is really good. ... Thanks very much for a fantastic meeting. It was very satifying to see an approach to pilot wave that is fully engaged with the big problems in physics. Meetings in quantum foundations can be depressing. This was anything but."

"The conference was excellent in every way, both [my wife] and I thoroughly enjoyed it and wanted to convey our thanks for all the work that you did. We were particularly sorry to leave without saying goodbye to Sam as she was such good company during our "lazy" afternoons by the pool. Please give her our best wishes. Unfortunately it is wet and windy in [my town] and I have spent the day doing very boring administrative tasks for our new Applied Physics degree - with much more to do. It is a hard contrast with talking physics in the sunshine in Tuscany!"

"A quick note to thank you for the fantastic visit to Tuscany. I apologize for my less than graceful exit, but I think someone must have put something in my Ouzo! It was a tough day... I really enjoyed the meeting, and getting to know you and yours. Hopefully our paths will cross again before too long.. With many thanks for everything, a great meeting, and some great fun - a wonderful exclamation point on a mad summer!"

"I'd like to express my sincere gratitude for the wonderful week I've spent at TTI. The atmosphere surrounding the conference was just awesome. I've had the chance to talk a bit with Sam and she's told me about the difficulties you've being through in order to organise this meeting. I really appreciate what you both are doing. It's simply impressive.. ..it's definitely very encouraging to know that there are some people out there making huge efforts to allow people meet each other (in some cases young people having the opportunity to learn techniques that are then developed at their countries), irrespective of whether financial support happens to exist."

"Thanks again for the kickass conference. I hope you got -- and are still getting -- some much deserved rest."

"I want to thank you, once more, for you hospitality sharing your house and your life with us during this week. For me, apart from a very fruitful scientific conference, it was also a wonderful and unique experience. I do also hope to be in touch with you in the future to discuss."

"I want to thank you again for this very enjoyable conference! It was extremely fruitful from my point of view at least."

"I'd like to thank you and Sam for opening up your home and organising such an interesting conference. This has been without a doubt the peak of my summer!"

"I have been impressed by your personal dedication to the goal of creating such conditions that people can get the best out of themselves and of discussing new and interesting physics. You and your family created an atmosphere which I felt very friendly from the start. I am sure that all participants will recognise owing a lot to your efforts."

"I keep rereading your conference report. Every time it brings a smile to my face or makes me laugh out loud. I agree it must have been the best physics conference this year -- and maybe the most fun ever. The best surprise for me was the number of friends made. Thanks to you and Sam for a fabulous time and regards to my 'niece' Saska!"

"The pleasure is mutual. It was the all-around best conference I've been to in my short career."

"It was lovely meeting you and Samantha, you have a wonderful place there, the conference was great, the outings spectacular, the Alpi Apuane a real discovery... what more to ask?"

"Thanks for the warm words and your general hospitality. That's a pretty special place you have there."

"Thank you very much for an excellent conference & for your tremendous hospitability! [My wife], I & the kids truly enjoyed meeting you all and seeing Vallico Sotto. And sorry for breaking the electric wall socket in Doctor's house while trying to charge my laptop 4.30 in the morning - I hope it was possible to fix!"

"Thanks again for the great time last week. I'm still in complete awe of the fact that you not only organized the conference, but chaired all the talks, led tours every afternoon, coordinated 3 meals a day for 50 people, emceed the football match, kept your daughter alive and your wife (mostly) happy, get a little drunk as needed, purchase and light fireworks, etc. And that you did all that 3 times already in one summer. You should find a way to bottle your energy and sell it."

"That is one fantastic house to chill in. I certainly envy you that!"

"It was easily the most enjoyable conference I have ever attended, and in the most beautiful location"

"Each of the days in Tuscany was amazingly wonderful, can I ever imagine Italian lovely place without any crowd of Japanese tourists?" [from a Japanese person]

"Thank you many times for the terrific time we (and in particular me) had at the TTI. I think that was my summer highlight for this year, and I suppose that it was the perfect atmosphere for our QMC family to grow closer together!!"

"I am really happy to see that you are preparing a new Casino Summer School in Vallico Sotto. It remains for me the most profitable workshop I have ever had, associating the top quality of lectures and the excellent practical training, making very difficult things to become accessible. It remains also for me the type of ideal ambiance associating work, scientific discussion and entertainments."

"Very educational, very relaxing, just great.. Thanks for this memorable week in Tuscany"

"Just a brief note to thank you again for hosting the QMC summer school. I had a wonderful time in Tuscany, it was probably the best conference/school I've attended. The science was excellent, and the location, obviously, stunning. The Towler Institute is a very impressive place. Every one of the participants was a pleasure to spend time with, and I've come away with some friends with whom I intend to keep in contact. The success of the school was down to your organization and hard work, and I just wanted to say "grazie" to you for all your efforts."

"Thank you so much for organising the summer school. It is really a wonderful experience and I wish I would have another chance to return soon."

"You bet how wonderful time I had (I believe others students did too) in this fantastic summer school !! I would like to quote a very popular Chinese poem to show my personal feeling of the almost ideal life in Vallico Sotto. The author is Tao Yuan-ming, an extremely all-time popular poet of reclusion throughout chinese history after him. And Tao's philosophy of life is epitomized by his house or hut as a central metaphor for self and universe. The following poem is called 'Drinking Poem - 5 of 20':

I built my hut within where others live,
But there is no noise of carriages and horses.
You ask how this is possible:
When the heart is distant, solitude comes.
I pluck chrysanthemums by the eastern fence
And see the distant southern mountains.
The mountain air is fresh at dusk.
Flying birds return in flocks.
In these things there lies a great truth,
But when I try to express it, I cannot find the words.

Especially 'I pluck chrysanthemums by the eastern fence And see the distant southern mountains' can be recited by almost every Chinese fellow. I am also grateful for the night of awesome firework, which was like special 'time tunnel' to bring me back to my childhood. Thank you and Thank you !! I was in a bit hurry I didn't bring camera with me, but the whole beautiful scenary has been deeply impressed in my memory, which is unfadable for sure..."

"I want to say again, 'Thank You for a good time in Tuscany'. All particular facets of school was great, including lectures, practice, place, people, activities, food etc. It was my first summer school (conference) but I think it shall be hard to find something better. Thanks."

"It was a pleasure to be in the summer school last week in Vallico Sotto, to meet you and your team, this "strange foreign people" (including myself), and Sammy and Saska. I liked very much the lectures, learned many things and enjoyed a lot our excursions and dinners. We really had a good time, congratulations on the organization of this fantastic enterprise. Thank you very much!"

"Thank you for hosting the wonderful summer school on earth. I had really enjoyed that :)"

"Thank you for a great week both when it comes to science and adventure. Now I really understand why people return to Tuscany. Hopefully we will too."

"Thanks for the nice time we spent at your place all together! It was very nice time, nice way to socialize and all lectures were extremely interesting!"

"Thank you - you, Neil and Pablo brought us such a fruitful and joyful summer school!!! I have learned so much about the technical parts of QMC as well as the related applied physical problems!! Including learning that QMC can describe the Van der Waale's interaction, descirption of the e-h phase diagram and the interesting discussion in your talk about the strongly correlated systems!! Not to mention that we got all those different options of activities every day to exercise our bodies after the brain exercises in the morning, besides the interesting monastery we took the lectures, slept in and had meals, tea and coffee!!! Really gratefully to you three for the wonderful time!!"

"...well, it almost goes without saying that I would love to be there. I need no persuasion about the beauty and tranquillity of the place, and I think humanity in general and theoretical physics in particular owe you a great debt for making all this happen."
Links