Description of the monastery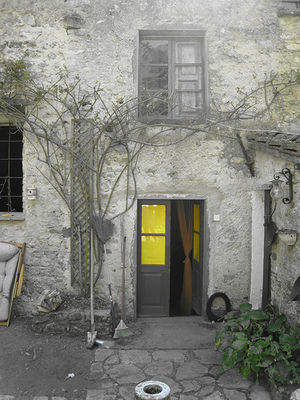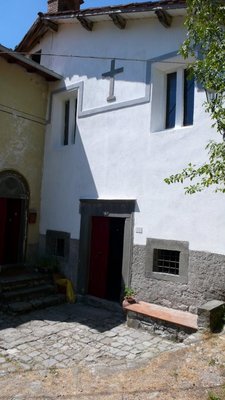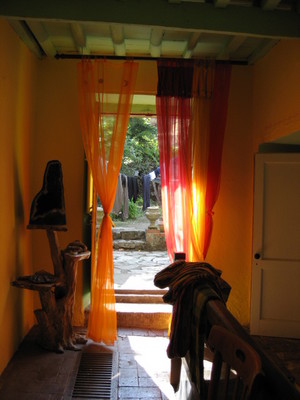 The old monastery building that hosts the Institute is made up of a large four-floor house - probably constructed sometime in the sixteenth century - attached to an ancient church of an earlier, though uncertain, date. (Some of the relics that Mike has dug up in the garden appear to date back a thousand years.) The house is - as you might expect - full of ancient cotto flooring and chestnut beams. Sadly however, Mike and Sam have ruined its authentic Tuscan flavour by redoing the standard white and sludge-brown paint scheme in lots of bright pretty primary colours and by adding fluffy things and Chinese antiques. It is hoped that the visitor will not mind this too much. As a token nod to Tuscan culture, Mike has sawn the heads off a couple of wild boar and attached them to the wall opposite the front door. He has also added his antiquarian library - full of travels, explorations, and local history - and his amusingly variable collection of antique scientific instruments, maps, stuffed and pickled animals, and other curiousities. Despite Mike's efforts to only buy the most interesting and exciting antiquarian books for the library, to his knowledge only one of TTI's several hundred visitors has ever looked at them and she was six years old. Mike really doesn't understand this but that only goes to show how out of touch he is, both with reality and with popular culture.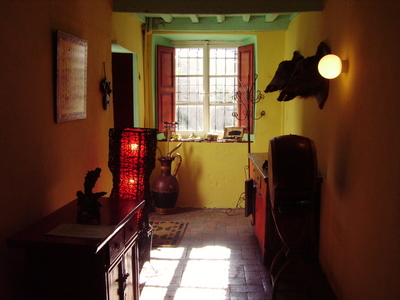 Some indication of what the monastery used to look like can be seen from the syrupy feature article in BBC Home and Antiques magazine in August 2001 - featuring its previous (and probably 89th) owners David Westby and Leonie Whitton who ran the place as an art school for eleven years. A few months after this article appeared David and Leonie went on to star in Channel 4's Grand Designs Abroad TV programme which documented their move to a ruin in Puglia. But I think the BBC got the wrong end of the stick, as the last line of their article reads '..but as the sunset floods down the slopes, drenching the tiled roofs of the village, one doubts they have any intention of going anywhere else - ever.'
Anyway, let me tell you what the house is like. As I said, the main house consists of four floors. The lowest basement floor has a large, beautiful and now bright green kitchen with two ovens and a big open fireplace. On the shelf is a copy of the 'Il Collegio Cook Book' - written by previous owner Leonie - in which she presents her favourite local recipes and interesting stories which she used to cook for and tell to visitors . A door from the kitchen leads into an orange living room decorated with pretty coloured furniture, strange artefacts, and a sofa. Here there is an antique wood-burning stove which leaks smoke for half an hour after lighting it and raises the temperature of the room to about a million degrees even in winter. I quite like it though. There is also a large CD, DVD, and board game library to while away the evenings (and the television is connected to the carefully hidden - can you spot it? - three metre satellite dish so you can watch English or Chinese - but amazingly not Italian - TV). On this level of the house there is also a pantry with a huge fridge-freezer, and a lovely long cantina featuring Mike's wine cellar and lots of logs for burning in winter. In the corridor that connects them there is a large blackboard for those urgent afternoon debates (surplus to requirements in the Cambridge University Theory group now the Elf'n'Safety people have made them illegal. Never did me any harm.) and a notice board featuring the obligatory photographs of every person who has ever visited the Institute.
If you go out of the front door in the living room you will find yourself in a small terraced garden with beautiful views over the village and of the surrounding mountain peaks; here there is a large and ancient wood-fired bread oven - easy to produce real perfect pizza - try it! From the garden one can access an external bedroom which is separate from the rest of the house and is therefore ideal for accommodating disreputable or unpopular visitors (if you were allocated this room during your visit - I'm just kidding, OK..?).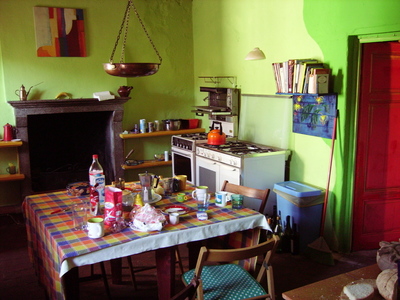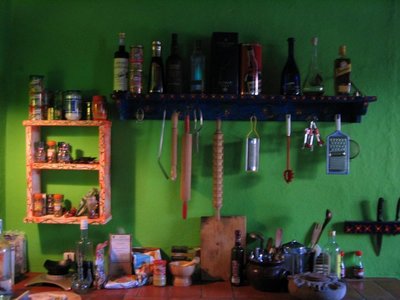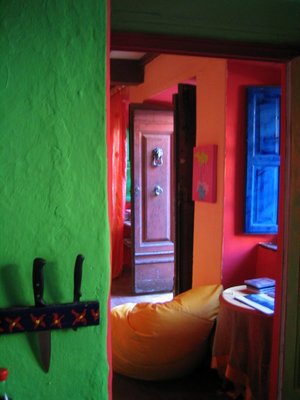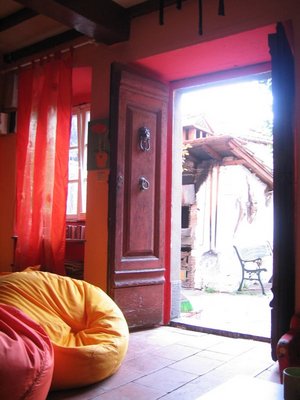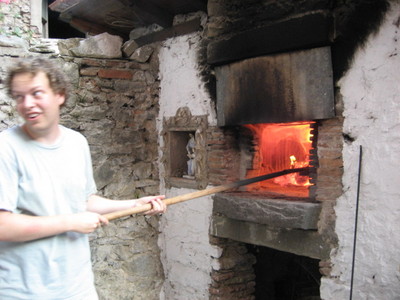 Upstairs on the middle floor there are single, twin and double bedrooms and a beautiful bathroom - where you can take a bath whilst gazing at the mountains from the open window.. In the large hallway one can find the extensive previously-mentioned antiquarian library featuring a range of thrilling books up to three-hundred years old. And OK there's also a modern library with Harry Potter and whatever. And guidebooks and maps to help you explore the area and the obligatory - we are in the Apuan Alps - mountaineering library. The main front door is on this floor, leading out onto the porch overlooked by the facade of the church. Here you will often find our wonderful old lady neighbour Flora (as featured strangling rabbits in the Il Collegio Cookbook), or everyone's favourite Vallico Sotto resident Delma who might be planting lettuces or looking after her vines. The back door of the middle floor leads into the beautiful upper walled garden, with its large patio area, vine-covered pergola, wisteria and cherry trees, and a Mexican hammock. Accessible from the garden are an additional bathroom and a storage room containing garden equipment, tables and chairs. The beautiful external dining area with bronze candelabras is the perfect place for summer outdoor suppers.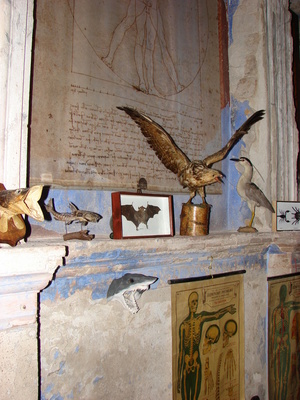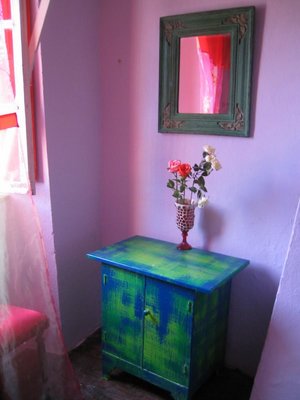 This level also has access to the church - which had its own priest as late as the Sixties before it was realized that three churches in a village of a hundred and fifty people was a bit excessive. Now it is a huge and impressive space currently used for meetings, schools, and conferences. When these aren't going on the wax on the floor will also tell you that this is the Italian studio of top bronze sculptor Samantha Keil; many of her most ambitious sculptures were made here. The church also gets occasional use as a concert hall (there is an electric piano, a microphone and amplification equipment) and, of course, as the home of Cinema Vallico - the only cinema in the Apuan Alps! Much of the Institute's computer equipment is here too : including laptop computers, a scanner, photo printer (put your digital camera memory card in here for instant prints), regular colour printer, and wireless network router.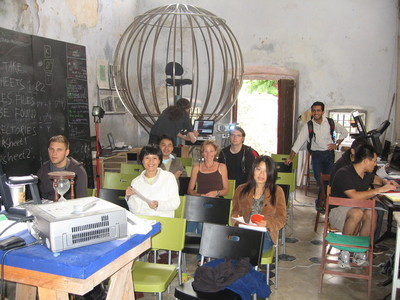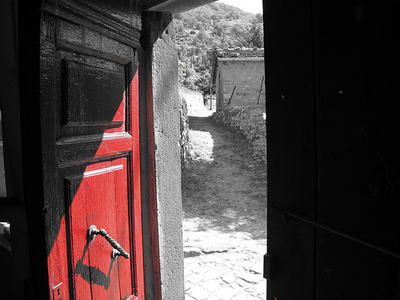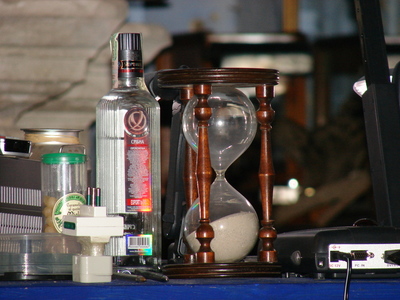 On the top floor there are single, twin, and triple bedrooms (one of which doubles as a lounge/playroom with another TV and DVD player with an additional satellite connection). There is also a second bathroom and shower. In the main corridor one finds the museum, another library of interesting books, the Richard Burton library, and a noticeboard for the Towler Institute Exploration Society. There is also a small kitchen area here, again with an open fire, useful for breakfast and hanging around over a coffee. A further flight of stairs leads to the attic - formerly dusty and full of cobwebs - now converted into a twin bedroom in which people of very restricted height may sleep. Amusingly Mike always puts his eight-foot-tall colleague and summer school teacher Neil Drummond (here he is next to tiny Mrs. Drummond) in the attic when he visits.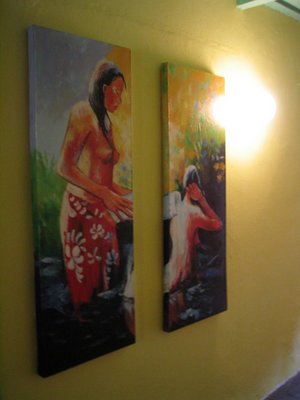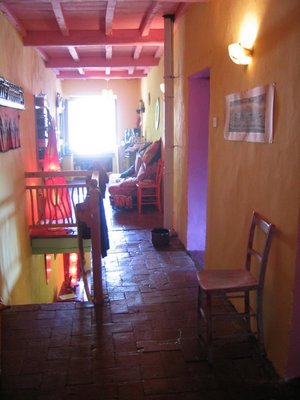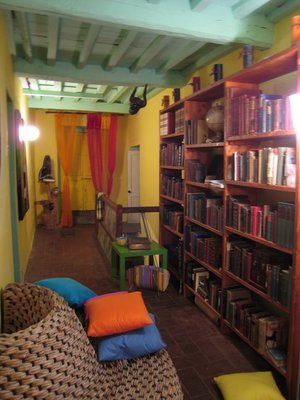 If it happens to be summer, and you go out of the front door, take the path heading upwards and to the right, climb for several hundred feet up the mountain terraces, you will find the TTI Luxury Bedouin Tent. This is where the most louche and exciting of our guests stay and where elegant Arabian parties are held. Just like the Great Wall of China, it is even visible from space.