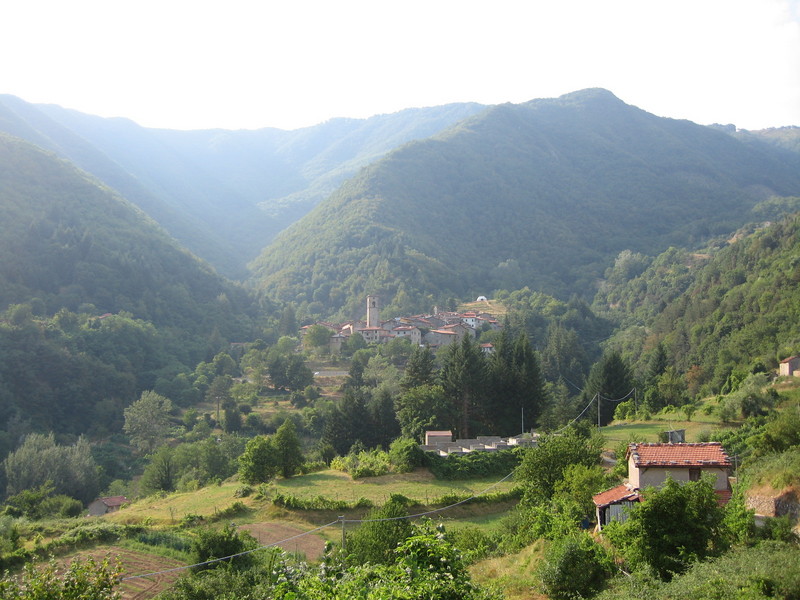 Well, it's Tuesday afternoon, there are four days to go before around fifty people will arrive in Vallico Sotto for the ninth Quantum Monte Carlo in the Apuan Alps IX international conference, and you know what? The place looks like a bomb has hit it, the weather forecast is promising days of terrible thunderstorms, and I haven't even got the Bedouin tent up yet. In the odd moment, I need to find time to do some research so I'll have something to talk about in my presentation next week. Sigh.
But then again, it's always like that just before a TTI conference. Just this year it's a bit worse as the old Institute is having a 10th anniversary revamp. Yes, it's been ten years since Sam and I opened up for business. Here we are looking youthful and exuberant in 2004 (left) with our first physicist guests Nicole Benedek, Andrea Ma, and Arash Mostofi. Or Professor Mostofi as I should say nowadays. As you can see the previous owners liked any colour so long as it was white.. it's a bit different now.
So in order to celebrate our first decade (and the monastery's 1246th year) there will be a party on the Doctor' Lawn during the evening of Arrivals Day Sat 26th July – 7.30 onwards, don't be late. Saska and I are designing a poster to distribute round the village so the locals know to come too, and we've got a singer, no less – the famous Ed Norris, former member of the Ramones and the New York Dolls. See him in action on Youtube here. He does requests. Catering will be provided by Sam and whoever we can get to volunteer to help, as well as the wonderful Ramona from nearby Fabbriche di Vallico. In addition to Ed and the Village People (the real ones, not the 1970s disco band), we will be welcoming the following scientists from around the world:
Dario Alfè (University College, London, U.K.)
Sam Azadi (Imperial College, London, U.K.)
Giovanni Bachelet (Sapienza University, Roma, Italy)
Vincenzo Barone (Scuola Normale, Pisa, Italy) – possibly
Stefano Baroni (SISSA, Trieste, Italy) – possibly
Dario Bressanini (Università dell'Insubria, Italy)
Shibing Chu (Lanzhou University, China)
Ron Cohen (University College, London, U.K.)
Gareth Conduit (University of Cambridge, U.K.)
Bruno Cramer (University of Campinas, Brazil)
Csaba Daday (University of Twente, Holland)
Caterina De Franco (University of L'Aquila, Italy)
Roberto Dovesi (University of Torino, Italy)
Andrea Droghetti (Trinity College, Dublin, Ireland)
Neil Drummond (University of Lancaster, U.K.)
Edgar Engel (University of Cambridge, U.K.)
Elif Ertekin (University of Illinois, U.S.A.)
Matthew Foulkes (Imperial College, London, U.K.)
Leonardo Guidoni (University of L'Aquila, U.K.)
Alex Haider (Lisa's Room, Cambridge, U.K.)
Nic Harrison (Imperial College, London, U.K.)
Kenta Hongo (JAIST, Japan)
Blazej Jaworowski (Wroclaw University of Technology, Poland)
Lisa Johnson-Davies (University of Life, Cambridge)
Martin Korth (University of Ulm, Germany)
Jonathan Lloyd-Williams (University of Cambridge, U.K.)
Pierre-Francois Loos (Australian National University, Australia)
Pablo López Ríos (University of Cambridge, U.K.)
Ryo Maezono (JAIST, Japan)
Fionn Malone (Imperial College, London, U.K.)
Mariapia Marchi (ESTECO S.p.A., Trieste, Italy)
Bartomeu Monserrat-Sanchez (University of Cambridge, U.K.)
Elaheh Mostaani (University of Lancaster, U.K.)
Richard Needs (University of Cambridge, U.K.)
Carlo Pierleoni (University of L'Aquila, Italy)
Tom Poole (Imperial College, London, U.K.)
James Shepherd (Rice University, U.S.A.)
James Spencer (Imperial College, London, U.K.)
Sandro Sorella (SISSA, Trieste, Italy)
Alex Thom (University of Cambridge, Italy)
Mike Towler (University of Cambridge and University College, London, U.K.)
John Trail (University of Cambridge, U.K.)
Cyrus Umrigar (Cornell University, U.S.A.)
Kyra Umrigar (Cyrus's House, U.S.A.)
Jasmine Umrigar (Cyrus's House, U.S.A.)
Tack Uyeda (JAIST, Japan)
William Vigor (Imperial College, London, U.K.)
Lucas Wagner (University of Illinois, U.S.A.)
Ching-Ming Wei (Academia Sinica, Taiwa)
Sadly, most of my Cambridge colleagues — in a desperate attempt to save a few quid and to avoid having to do any chores — are coming on the late flight and will miss both their dinner and the singing. Bunch of cheapskates.
Anyway, the final version of the programme document for the conference can be found here. There are six days worth of excellent talks to listen to in the mornings, and in the afternoons most people will be going on refreshing mountain walks and other excursions here in the Apuan Alps National Park, before they reunite in one of the fantastic local restaurants. And before you accuse them of having too good a time at taxpayers expense, they do use the afternoons and evenings to discuss quantum Monte Carlo as well. At least I hope they do. I can't help it if it's nice around here.
But back to the bomb site. Let me just post a few photographs to give you a flavour of what's going on in the monastery at the moment..
Like I said, TTI is having a serious revamp. Here are my bravi ragazzi Marco and Raresh attached to the front of the church a couple of hours ago. I just asked them to paint it, but they've insisted on removing all the old paint and mould and doing the job properly so it will look nice for years to come. What a pair of fantastic guys. If you see them at the party, buy them a beer (also Marco the Younger – not shown, though he may be too young to drink – don't tell his mum).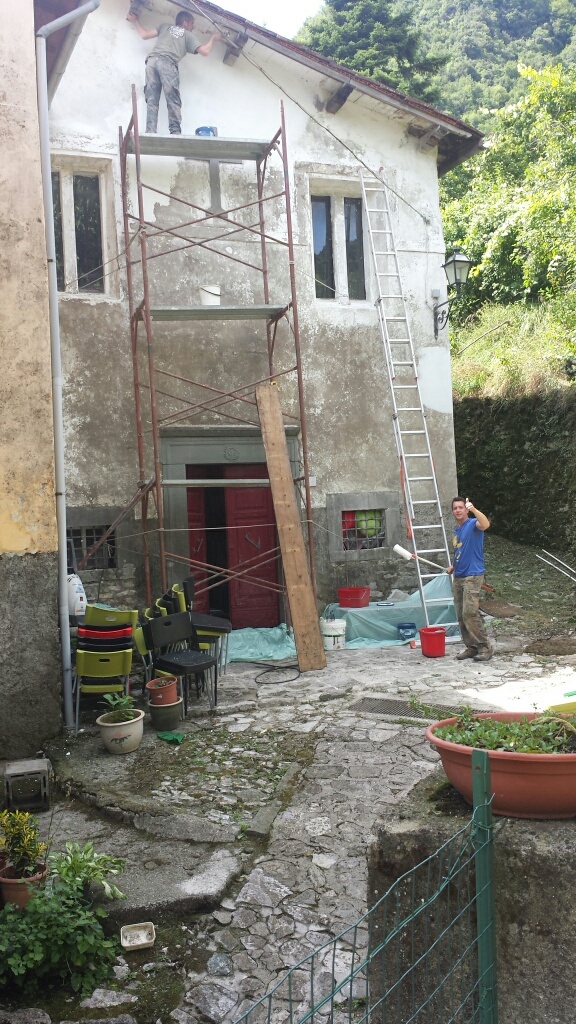 They've also done a deep scrape of the crumbliest internal wall inside the church, and applied a coating of some sort of glue so that the several kilograms of dust and bits of plaster that annually coat everything beneath will cease to be a problem.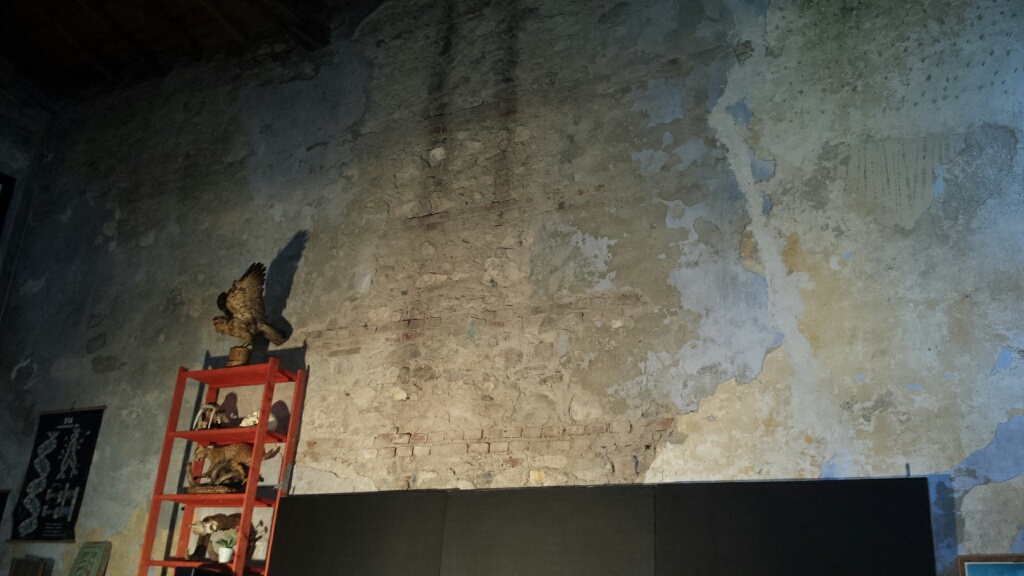 And as you can see we also have a nice new-painted blackboard: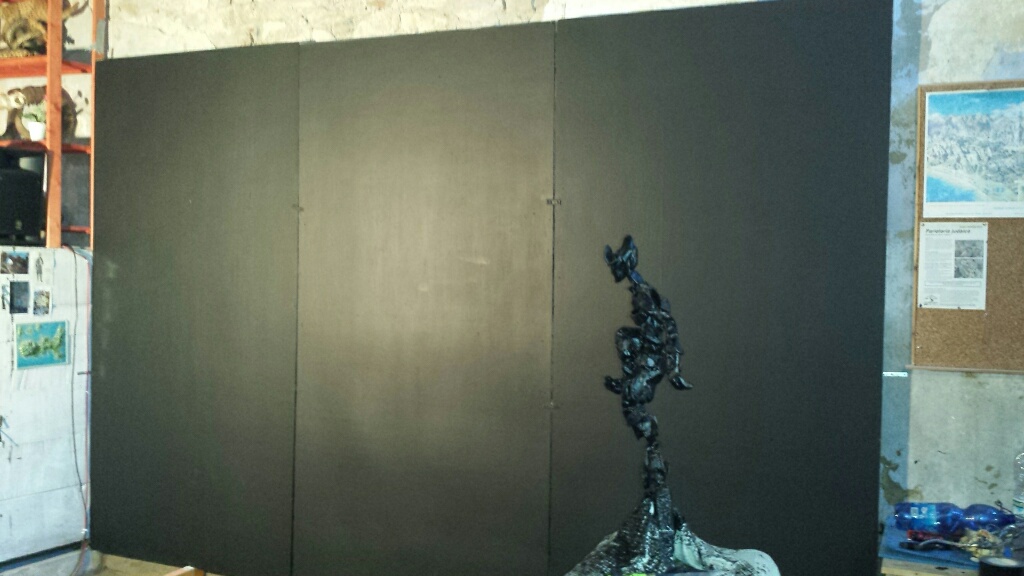 The lads are also helping me to get rid of junk which has always been too heavy to cart down the hill, like this hideous second cooker which has been sitting in the kitchen since the day we arrived without ever having cooked anything (I have a vague recollection of it being able to keep plates warm in the first few years..). Still, goodbye!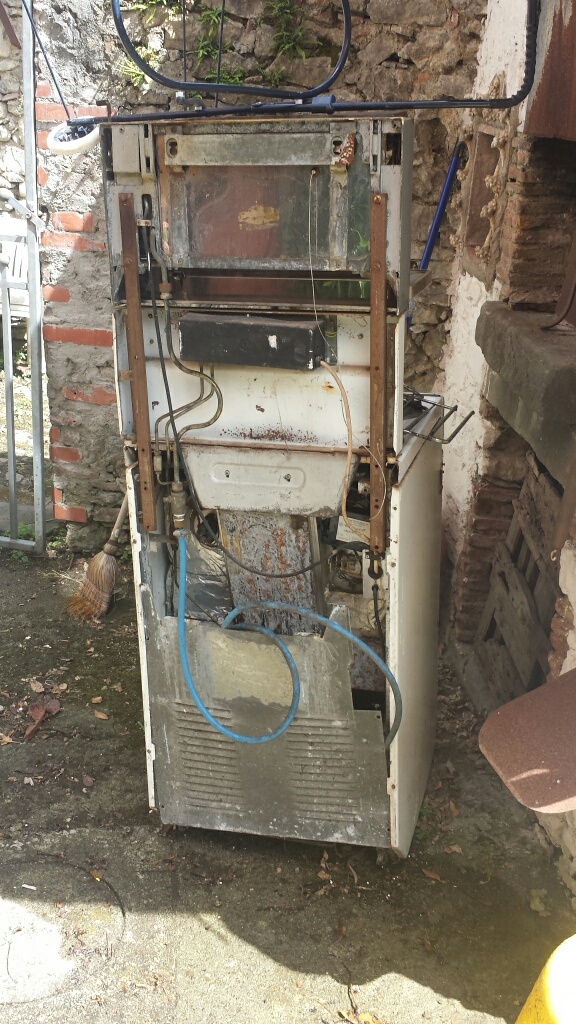 Here are the rest of my cleaning team, who sadly seem to spend most of their time hitting each other with mops, rather than actually cleaning anything.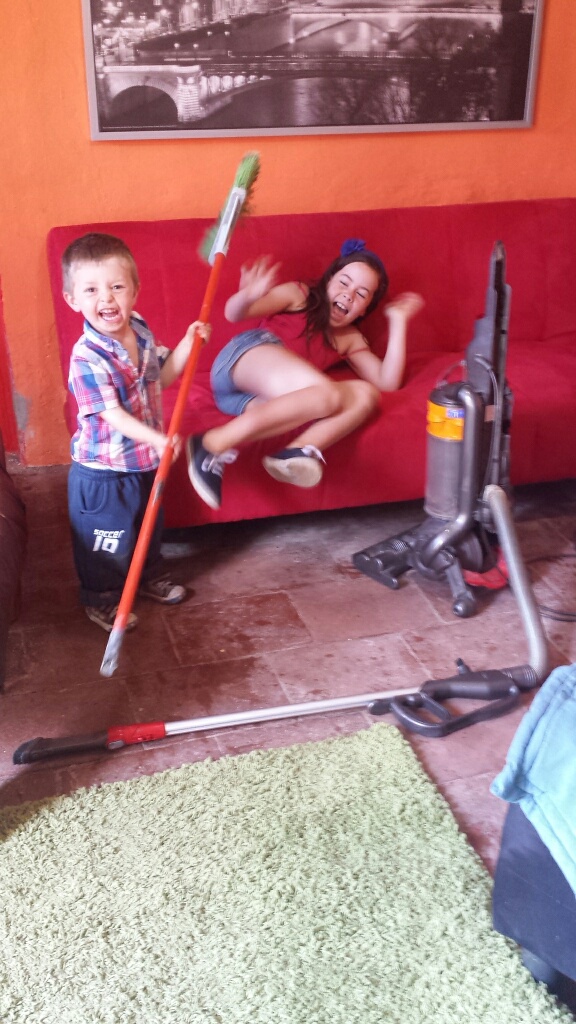 Ed the Singer will be testing out TTI's new PA system, as demonstrated here by Jamie Lee Lewis, who is already displaying the correct rock and roll attitude by prominently displaying his arse wherever he goes (that's in addition to his newly-developed cocaine habit). I wonder if Ed will do that?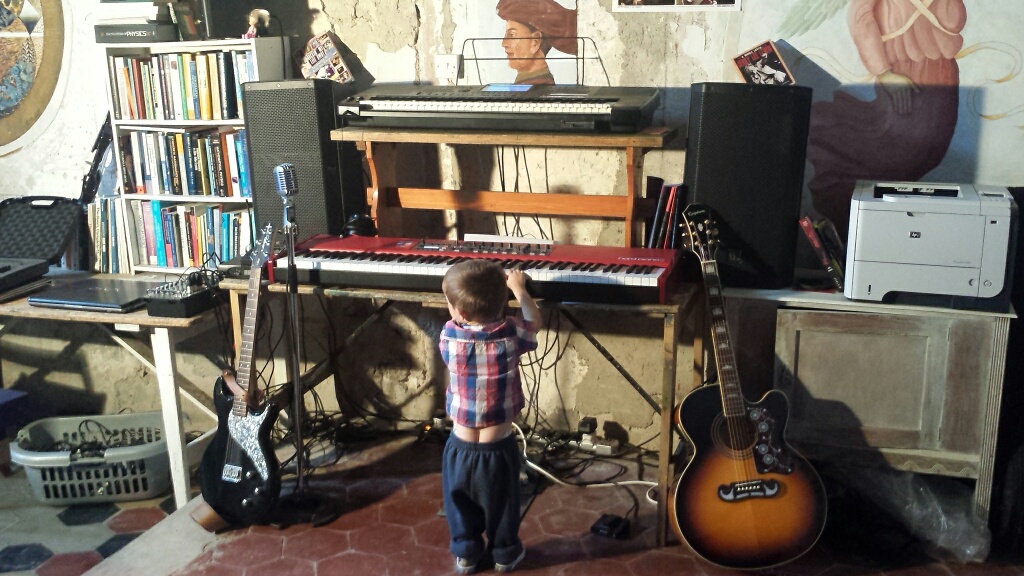 Note we also have some nice new instruments, microphones, and loudspeakers. People missing TTI's old beige acoustic guitar will be glad to hear it has gone to a good home, as I have donated it to Professor Needs's son Ralph. Richard was desperately trying to give it back to me earlier this term, but in order to annoy him I have told Ralph to keep it and I've bought a colourful new Epiphone electro-acoustic instead..
Marco the Younger has been helping me clear the attic of 100 years worth of dust, rusting agricultural implements, and general detritus, as you can see in the photo below. It's actually much longer than it looks, and will be a really useful new space (for example, as an emergency shelter for Bedouin Tent inhabitants during the dreadful thunderstorms. This is actually where I sleep on a mattress on a floor during the conference (though in former years only the nearer bit was habitable with the rest screened off by a curtain). Young Lopez Rios gets to sleep in my old comfortable bed on the floor below, for some reason – see the sacrifices I make for our guests' comfort. Anyway, I'm thinking of converting the end of the attic into a little contemplation space with our little surplus sofa and a bottle of Armagnac, where I can sit and plot my imminent takeover of the world. And do last minute revisions of all those summer school lectures that I never seem to be able to write in time.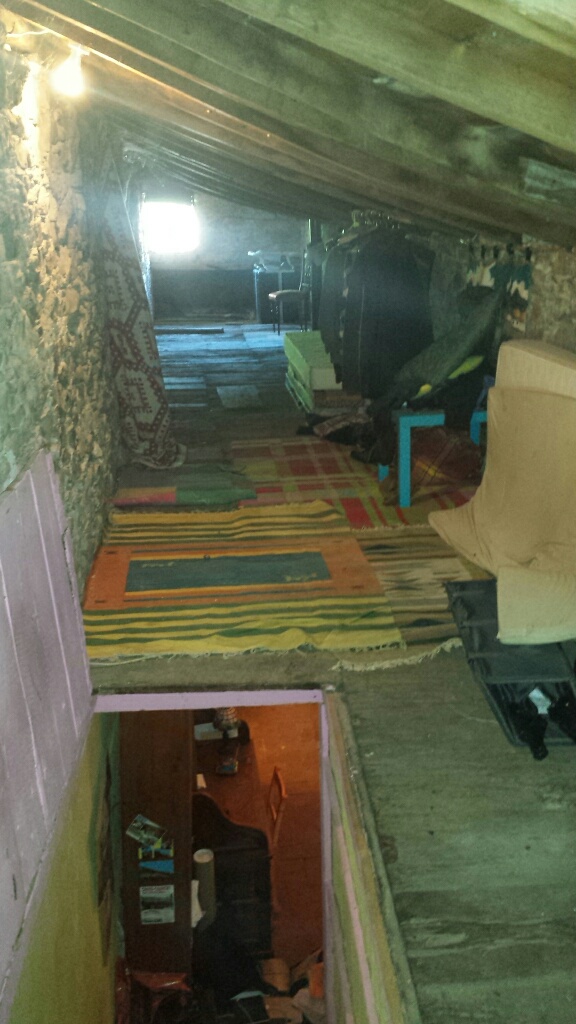 Right at the end of the attic, you can see the new scatola bianca, a complicated box of electronics running TTI's new university-grade wireless network, which I installed earlier this summer. Every part of the Institute plus Flora's house next door plus the Doctor's House will now be covered from here. It will also shortly be possible to connect via ssh into TTI 's systems from the outside world, if you can think of a reason to do that.
It's also time to attach TTI's new NAS file server (a Synology DS1513+ 5 Bay DiskStation
Desktop NAS), which amongst other things will make running summer schools a good deal easier. Ideas for what to store in its 10 terabytes of storage space on a postcard please. Here it is, still in its box. I hope it doesn't have a Windows-only setup CD. I thought I still had at least one copy of Windows after Pablo's 'Everyone must use Ubuntu' spring cleaning a few years back, but I can't find one..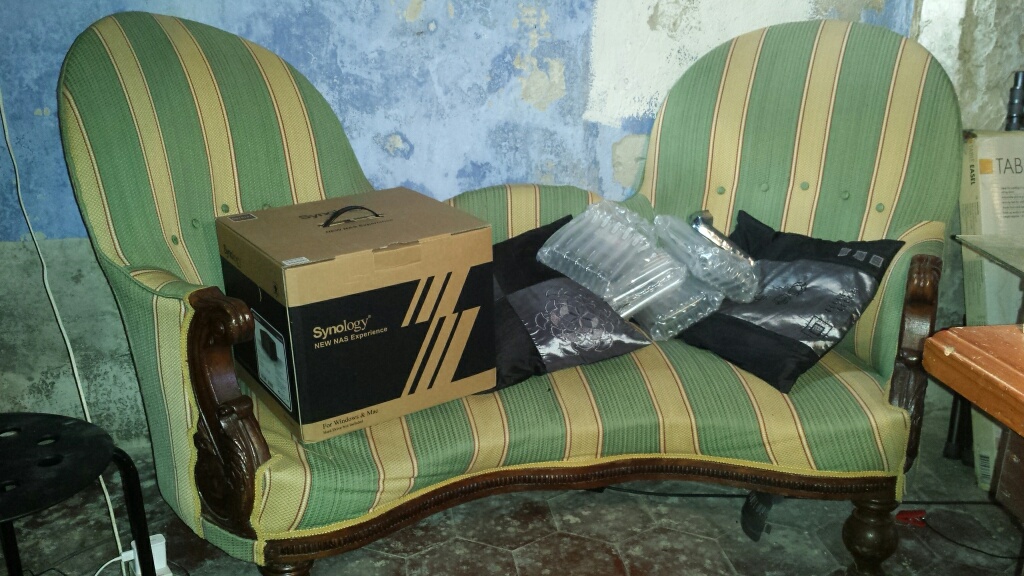 I'm afraid the garden took a bit of a pasting in a giant thunderstorm the other night (which — despite the advantage of allowing me to map the current location of the leaks in the church roof — also took out the local internet service for an entire day , which is very frustrating when you're trying to organize a conference). At least some of the pretty flowers are coming out though..
Earlier this year I read an article in the paper about Crug Farm Plants in Wales, who sell exotic plants from the Mysterious East (the Jungles of Laos, and places like that) which they collect personally on Indiana Jones style expeditions. So the garden now contains seven of these oriental immigrants. A prize for the first person to spot them. I appreciate this isn't very rock and roll – perhaps I'm getting old.
As you can see below, Sam has been busy sculpting these last few weeks. I continue to marvel in disbelief – why on earth did she marry someone as talentless as me?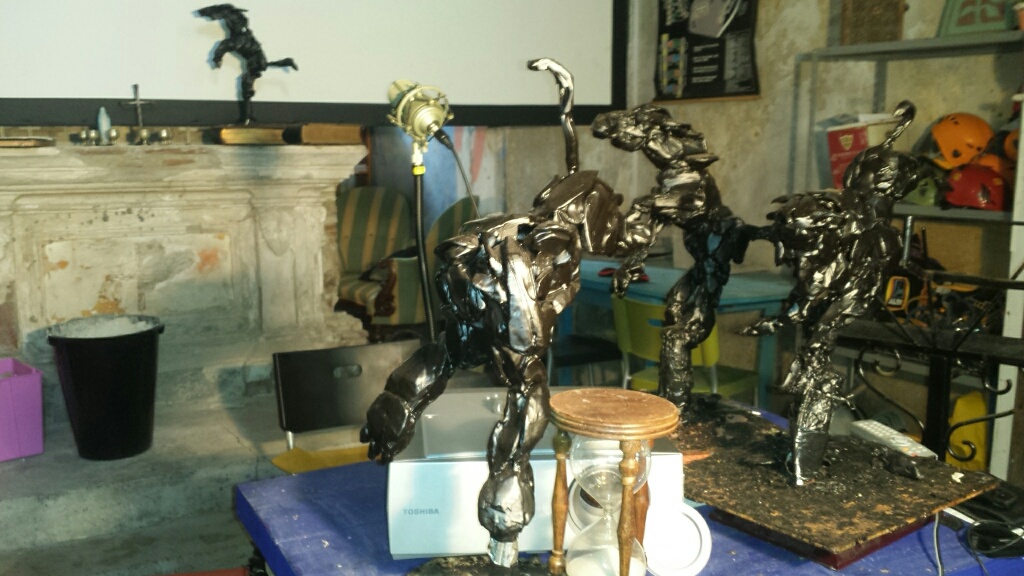 Here's another sculpture in front of the new sucker machine I've installed to extract all the nasty fumes Sam creates when she melts wax with a hot knife. At last the Alien Death Sphere in the church (which is holding up the trunking) has found a use.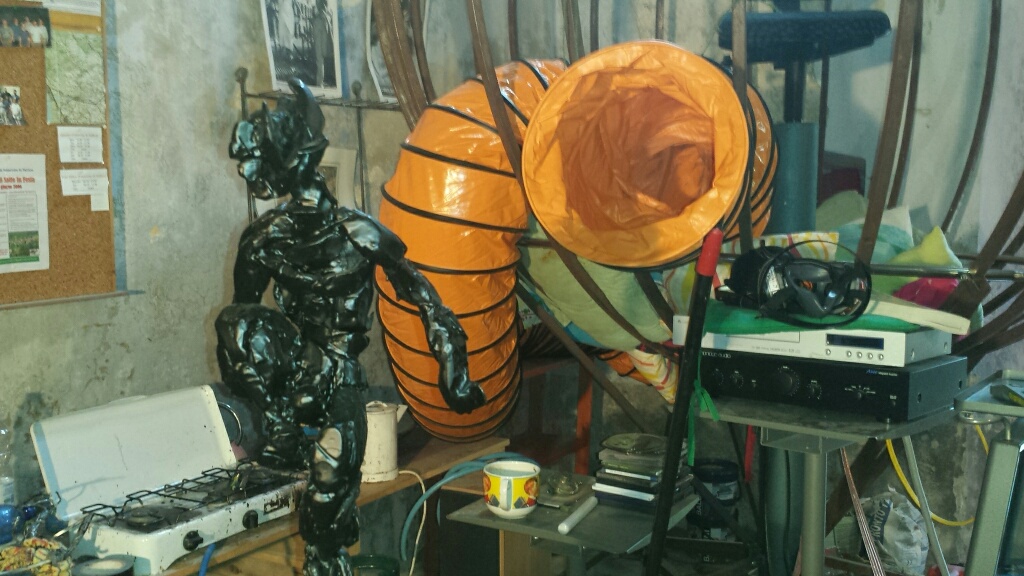 For tenth anniversaries you've got to have some fireworks. The two boxes are labelled 'Nuclear Demolition' and 'Power Station 3', for some reason, and there are (cough) a few small rockets in the blue box. Anyone wishing to launch satellites into orbit should contact me for a good price.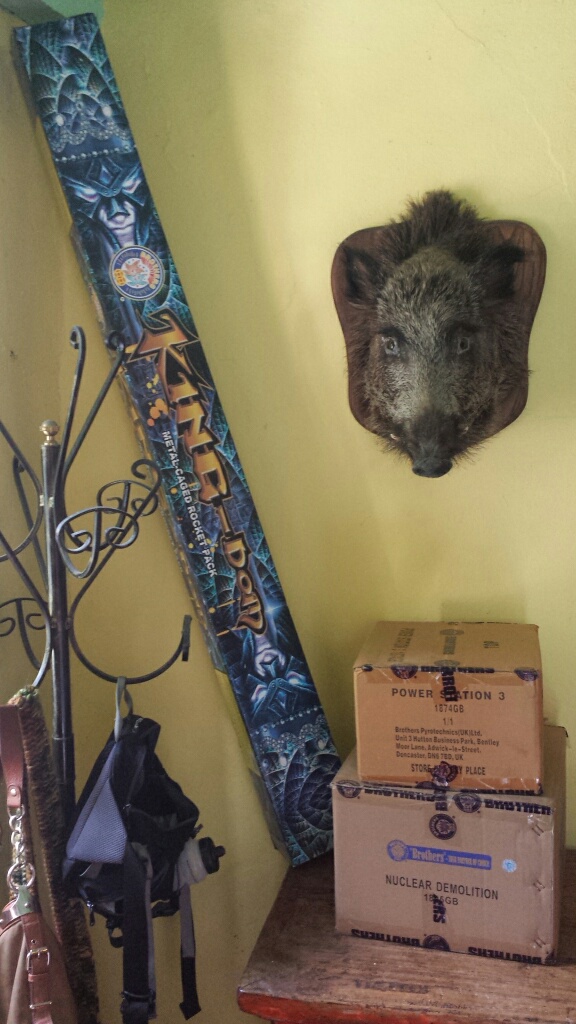 Here's my currently scruffy desk in the back of the church, where I was sitting a few seconds ago until I got up to take this photograph.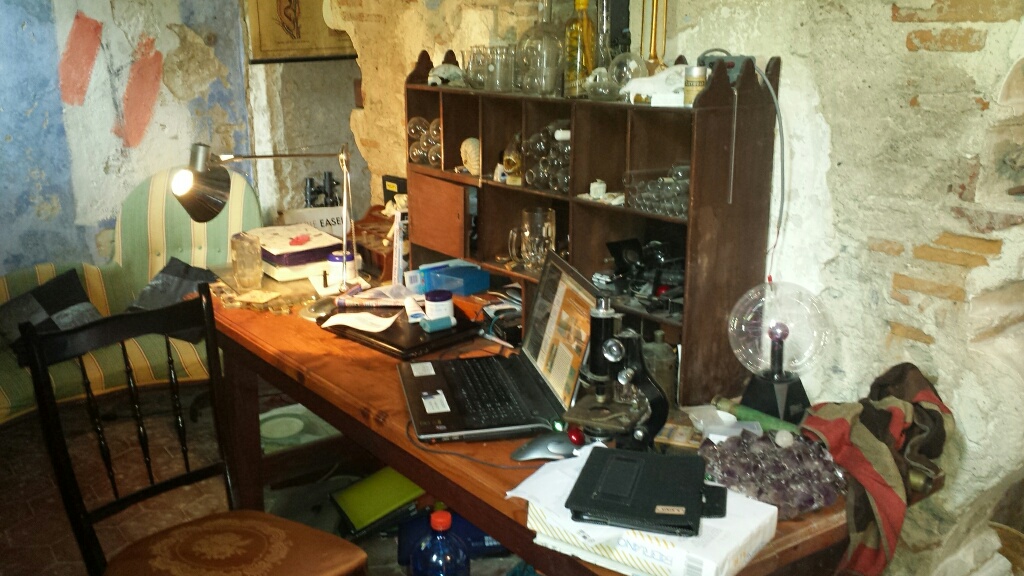 And I'll conclude with what Young People Nowadays apparently refer to as a 'selfie'.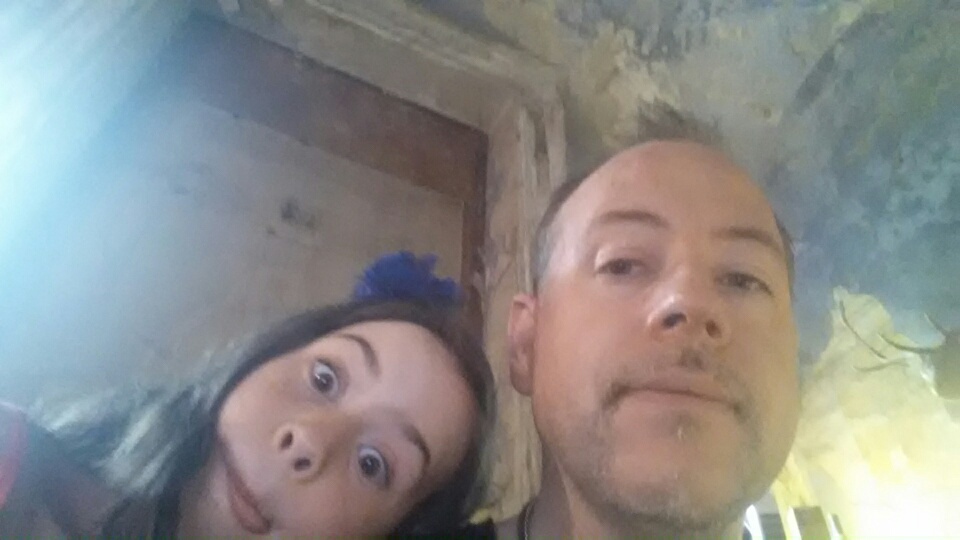 If you're travelling to Vallico Sotto this week, I wish you a very pleasant journey. We're all looking forward to meeting you, and to enjoying some great science and some great company. And if you get some exercise as well, all the better (let's face it, you do spend too long sitting around behind your desk, don't you..). I note finally that the only volunteer for the Vallico Sotto against the World football match against the local tough guys later this week is Jasmine Umrigar (aged 13). I hope you'll all be really embarassed if she beats them.
See you soon!
Mike
[who's just remembered he has a summer school to organize as well for the week after. Oh God. Why do I do this again?]