For some years, MDT has been trying to organize a rock and roll musical performance evening during the annual 'QMC in the Apuan Alps' conference without, it has to be said, much success. This is because – with the exception of Dr. Pablo López Ríos who is very good at drumming, singing, and guitar-playing – there hasn't been all that much willing and relevant  musical talent around. I've therefore added this page  to organize and encourage the creativity of the remaining participants.
They should know that (a) you can buy a cheap guitar for relatively little money, (b) learning to play some simple Johnny Cash songs (why not try 'Folsom Prison Blues'..) is really easy, and (c) these days – at least for guitars – full transcriptions of whatever song you might want to play are all online. See e.g. here. Note how you can click the little pictures at the side and switch between lead guitar, rhythm guitar, and bass parts. Go for it!
Of course, Mike's taste in music is probably different to yours, so please feel free to suggest something more to your taste. That said, pour encourager les autres – in what little spare time he has – Mike is attempting to become a Jerry Lee Lewis impersonator.  Because he has very little natural talent (especially at singing) and because nobody makes fancy internet apps to learn piano songs and because almost all sheet music ever published for popular rock'n'roll music is cynically bad rubbish (why is it necessary to always play the vocal line in the right hand, even if you have a vocal line as well?) – he reckons this will take three years if he can do it all. We're currently (November 2013) nine months into this process. He therefore hopes to do his public debut in Summer 2015 (in front of a bunch of children and old people in Vallico Sotto). Until then, you can see the Great Man himself making a crowd of excitable teens go absolutely wild. Click the photo below.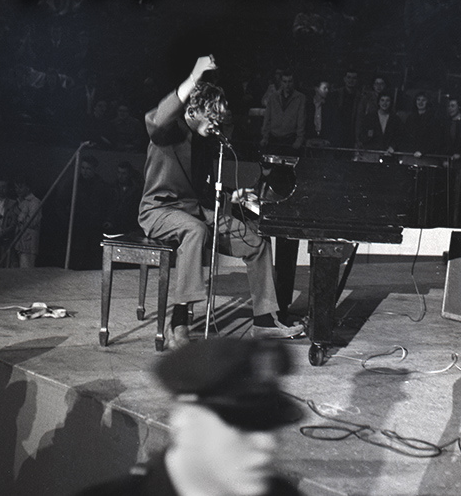 Or of course you could also buy 'Live at the Hamburg Star Club' – of which All Music said:
"Words cannot describe — cannot contain — the performance captured on Live at the Star Club, Hamburg, an album that contains the very essence of rock & roll […] Live at the Star Club is extraordinary — the purest, hardest rock & roll ever committed to record […] he sounds possessed, hitting the keys so hard it sounds like they'll break, and rocking harder than anybody had before or since. Compared to this, thrash metal sounds tame, the Stooges sound constrained, hardcore punk seems neutered, and the Sex Pistols sound like wimps. Rock & roll is about the fire in the performance, and nothing sounds as fiery as this; nothing hits as hard or sounds as loud, either. It is no stretch to call this the greatest live album ever, nor is it a stretch to call it the greatest rock & roll album ever recorded. Even so, words can't describe the music here — it truly has to be heard to be believed."
Milo Miles raved in Rolling Stone that:
"'Live At The Star Club, Hamburg' is not an album, it's a crime scene: Jerry Lee Lewis slaughters his rivals in a thirteen-song set that feels like one long convulsion. Recorded April 5th, 1964, this is the earliest and most feral of Lewis' concert releases from his wilderness years …".
Q Magazine commented
"This might be the most exciting performance ever recorded…".
So, of course, this is exactly what "Mike Towler Live at the Vallico Sotto Star Club" is going to be like.. Definitely. Absolutely. Oh yes. And just to prove it, here is his ideal set list:
Mike T's 19 favourite Jerry Lee Lewis songs
You might also like to see the supremely talented Pablo in action. In disguise as 'pablomme' he played all the intruments, sang, and did all the technical stuff to produce this Youtube video: